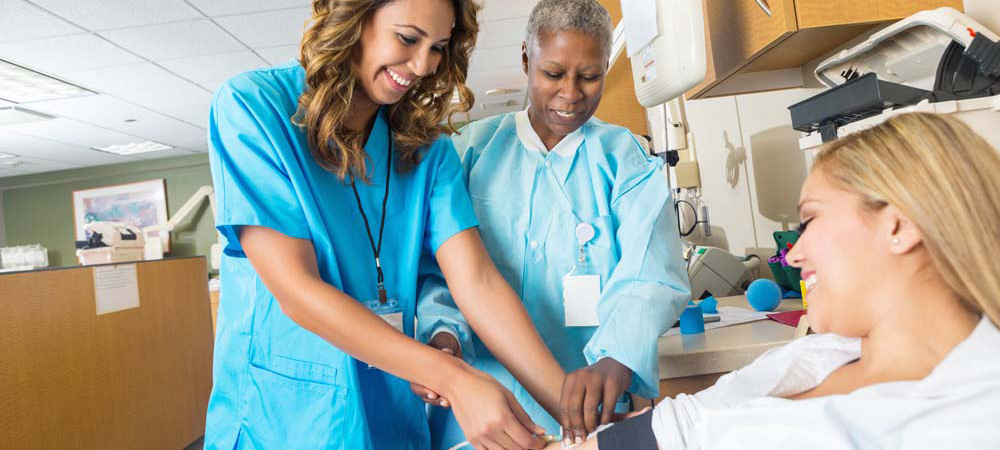 The field of phlebotomy is growing with a projected 10% increase in job demand from 2021-31. Phlebotomists fulfill vital roles at hospitals, physician offices, diagnostic labs and blood donation centers. They are primarily responsible for collecting blood samples from patients via venipuncture or capillary puncture. The phlebotomist also facilitates the collection and transportation of the laboratory specimens and is often the patient's only contact with the laboratory staff.
Work Environment
Phlebotomists are employed in a variety of settings, including hospitals, medical and diagnostic laboratories, blood donor centers, and doctors' offices.
How to Become a Phlebotomist
Phlebotomists typically enter the occupation with a certificate from a postsecondary phlebotomy program, but some qualify with a high school diploma and on-the-job training. Employers may prefer to hire candidates who have earned professional certification.
Pay
The median annual wage for phlebotomists was $37,380 in May 2021.
Job Outlook
Employment of phlebotomists is projected to grow 10 percent from 2021 to 2031, faster than the average for all occupations.
About 21,500 openings for phlebotomists are projected each year, on average, over the decade. Many of those openings are expected to result from the need to replace workers who transfer to different occupations or exit the labor force, such as to retire.
Our Program
Our phlebotomy program provides interested individuals with the knowledge and clinical skills need to become a certified phlebotomy technician. During the course learners will be presented with engaging content and hands-on experiences to prepare for the National Healthcareer Association Certified Phlebotomy Technician (CPT) exam. In preparation for this exam, students are required to obtain at least 30 successful venipunctures and 10 successful capillary punctures.
Required placement test scores or successful completion of corequisite developmental course(s).
Enrollment in PHLB 1016 Principles and Practice of Phlebotomy requires special approval from the Program Coordinator, substance abuse screen, and criminal background check.
PHLB 1016 Principles and Practice of Phlebotomy 6 cr.
Sem: F/S 5 Lec./2 Lab Hrs./week
Corequisites: MEDP 1033 Medical Terminology and MEDP 1043 Anatomy & Physiology with a grade of "C" or better.
This course addresses the history of phlebotomy and procedural methods dealing with patients and hands on practice in the lab performing skin puncture and venipuncture, complications in blood collection procedures and specimen collections and transportation. Fees for supplies, insurance, uniforms, drug screening/background check and testing are required. Students must complete this course with a C or better to sit for the certification exam. Philosophy