Theme: Building Bridges, Creating Change
ASU Mid-South joined the National Consortium on College Men of Color (NCCMC) in fall 2015. The NCCMC supports colleges in building the capacity necessary to advance student success for college men of color, including African-American, Latino, Southeast Asian, Native American, and Pacific Islander men.
Through collaboration and shared passion, the Men Of Color Conference at ASU Mid-South hopes to increase knowledge leading to student success and to begin a collective dialogue of identifying strategies to help Men of Color succeed in the community college sector.

Men of Color Conference
ASU Mid-South joined the Complete College of America/Predominantly Black & Community Colleges (CCA/PBCC) group in 2021. CCA/PBCC supports increasing college completion rates and closing institutional performance gaps by working with states, systems, institutions, and partners to scale highly effective structural reforms and promote policies that improve student success.
To support the mission of CCA/PBCC, ASU Mid-South will be hosting its Fifth Annual Men of Color Conference on April 14th. This conference provides opportunities for dialogue and professional development in support of collective sense-making, organizational learning, and change.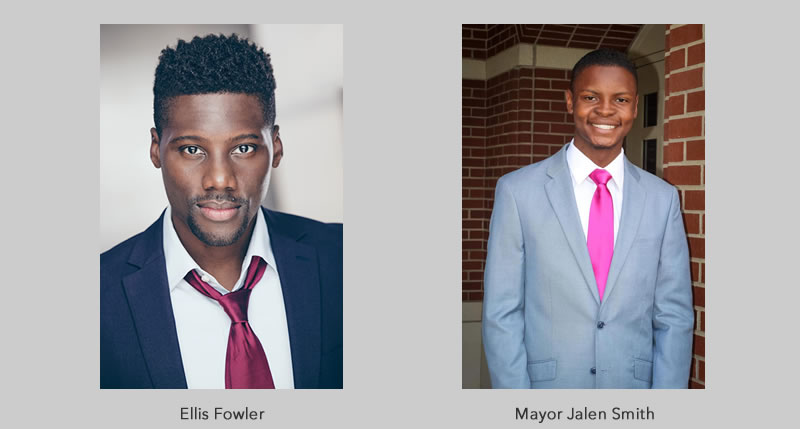 Ellis E. Fowler is an award-winning television and film actor whose credits include Tyler Perry's Sistas, Grownish, All American: Homecoming, #Anniversary, and more.

Ellis is also a writer and has written a highly-rated novel series, The Dead Man Chronicles, as well as television pilots, award-winning short screenplays, and an acclaimed book on goal setting: Realize your Resolutions.

An alum of the University of Memphis, Ellis moved to Los Angeles from Tennessee in early 2013. He holds bachelor's degrees in film and broadcast journalism.

In addition to acting and writing, Ellis is a video editor/motion graphics specialist and a Director of Photography.

A true creative polymath who prides himself on achieving a level of mastery in all that he does, Ellis has a passion for storytelling through the pen, the lens, or through his own expression of character.

Jaylen Smith is the Mayor of Earle, Arkansas. At age 18, he became one of the youngest mayors ever elected in the United States. Smith graduated from Earle High School. In May 2022. While a Senior in High School, he began taking classes at ASU Mid-South. He enrolled as a full-time student in the fall semester of 2022. He became active in many student groups including assuming the role of Vice-President for the mentoring imitative Brother-2-Brother.

In 2022, running as a Democratic candidate, Smith won the election to be the mayor of Earl, Arkansas. He was sworn into office on January 3, 2023, His victory made him the youngest black mayor in US history. This also made him one of the youngest mayors of any race in the United States.

Smith's mayoral priorities include: improving public safety, transportation, renewal of underused housing, emergency preparedness and addressing the food dessert in Earle. In preparation for his time in public office, Smith was given guidance by Frank Scott Jr. the mayor of Little Rock, Arkansas.

Recently, Mayor Smith received the President's Award of the Arkansas Democratic Black Caucus at the organization's 2023 King Kennedy Awards.
For more info contact:
Gerar Pope
870-733-6849
gdpope@asumidsouth.edu
We hope to see you all there!
See below for some image from last year's Men of Color workshops.