Theme: Building Bridges, Creating Change
ASU Mid-South joined the National Consortium on College Men of Color (NCCMC) in fall 2015. The NCCMC supports colleges in building the capacity necessary to advance student success for college men of color, including African-American, Latino, Southeast Asian, Native American, and Pacific Islander men.
Through collaboration and shared passion, the Men Of Color Conference at ASU Mid-South hopes to increase knowledge leading to student success and to begin a collective dialogue of identifying strategies to help Men of Color succeed in the community college sector.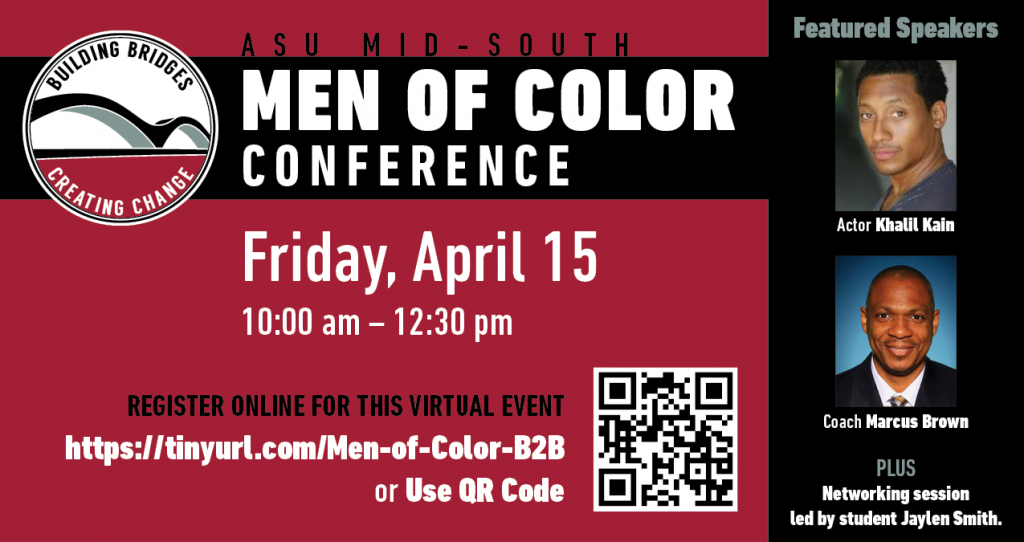 ( https://us02web.zoom.us/j/87360313251?pwd=bGxkeHFKV25XSFd2R2N2S29aM0puQT09)
Men of Color Conference
ASU Mid-South joined the Complete College of America/Predominantly Black & Community Colleges (CCA/PBCC) group in 2021. CCA/PBCC supports increasing college completion rates and closing institutional performance gaps by working with states, systems, institutions, and partners to scale highly effective structural reforms and promote policies that improve student success.
To support the mission of CCA/PBCC, ASU Mid-South will be hosting its Fourth Annual Men of Color Conference on April 15th. This conference provides opportunities for dialogue and professional development in support of collective sense-making, organizational learning, and change.
Please join us for the April 2022 conference! Our featured speakers will be Actor Khalil Kain & Coach Marcus Brown. Both will share Life Lessons along with ways that Young Men and Mentors can Build Bridges and Create Positive Changes around them. In addition there will be a Networking session led by student Jaylen Smith.
Please click link below to Register for Arkansas State University Mid-South Men of Color Conference.
https://tinyurl.com/Men-of-Color-B2B
For more info contact:
Gerar Pope
870-733-6849
gdpope@asumidsouth.edu
We hope to see you all there!
See below for some image from last year's Men of Color workshops.