Teaching is one of the most rewarding jobs in the world and teachers are in demand in eastern Arkansas! According to the Arkansas Department of Education, the teacher shortage in the Arkansas Delta is at an alarming level. ASU Mid-South offers an Associate of Science in Education degree to get you started on the path to a rewarding career in education.
We provide everything you need for the first two years of a teaching degree, and when you complete the ASE, you can pursue a bachelor's degree through our University Center or transfer to a university.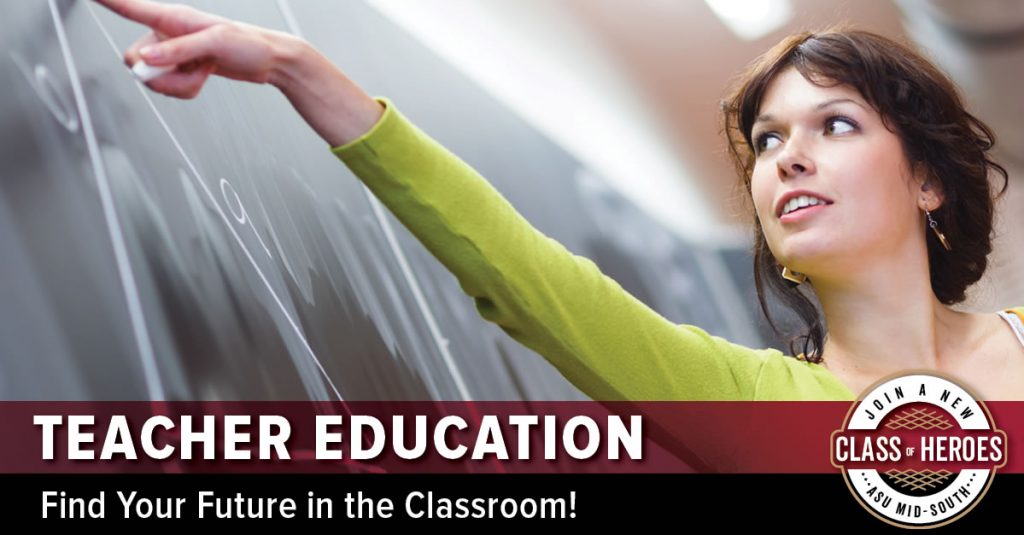 THE PROGRAM
The Teaching track focuses on learning and applying fundamental understanding of child development, educational theory and practice, and learning strategies.  The program is designed to prepare you to transfer to a four-year education program in early (k-6) and middle education (4-8).
A Bachelor of Science in Elementary Education (k-6) and a Bachelor of Science in Middle Level Education (4-8) are offered on the ASU Mid-South campus through Arkansas State University Jonesboro.
Before graduating, you must successfully pass the Praxis I examination which will give you initial teaching certification in the state of Arkansas.
For more information about Associate of Science in Education, or how to register:
Explore our programs and find your path at ASU Mid-South.

Students with disabilities verified by a qualified physician are entitled to reasonable accommodations needed to complete their educational goals while attending ASU Mid-South.
For Gainful Employment information, please visit https://www.asumidsouth.edu/financialaid/gainful-employment/