You'll be first on the scene to provide life-saving assistance with ASU Mid-South's EMT program. Learn the skills necessary to deal with traumatic injuries and accident scenes as well as how to safely transport victims to hospitals or medical centers.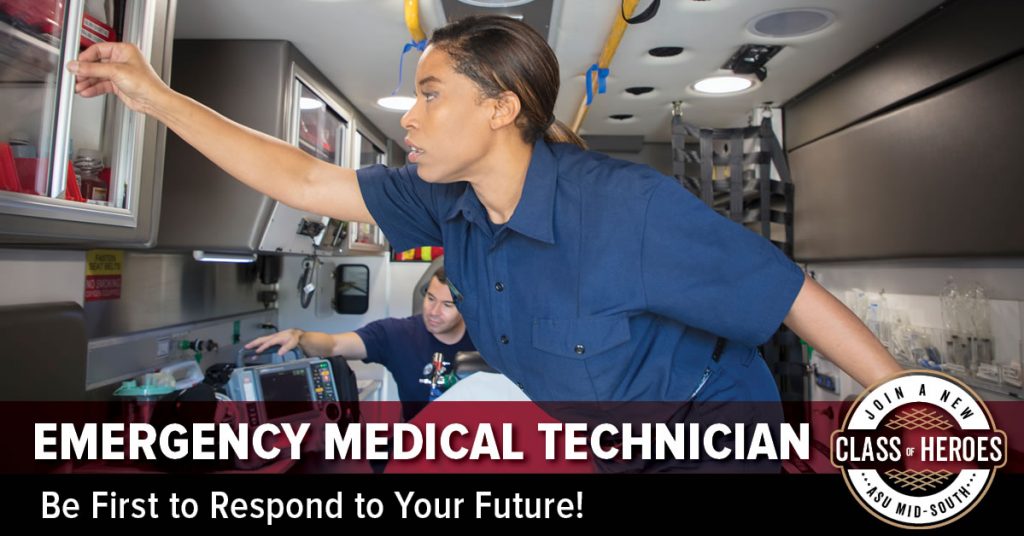 THE PROGRAM
The Emergency Medical Technician program at Arkansas State University Mid-South focuses on basic life support skills such as airway maintenance and respiratory support, cardiopulmonary resuscitation, fracture immobilization, patient assessment and safe operations of emergency medical services equipment. The curriculum is based on the new National Emergency Medical Services Education Standards. We use a best practices approach in instructing care for emergency patients.
Upon successful completion of this semester-long program, students will receive a Certificate of Proficiency and will sit for the Emergency Medical Technician National Registry Exam. Upon passing the exam, students become eligible for an Arkansas Basic Emergency Medical Technician certification. This certification qualifies students for a variety of job opportunities with ambulance services, fire departments, law enforcement, hospitals, clinics, and industries.
For more information about the Emergency Medical Technician program, or how to register:
Explore our programs and find your path at ASU Mid-South.

Students with disabilities verified by a qualified physician are entitled
to reasonable accommodations needed to complete their educational goals while attending ASU Mid-South.
For Gainful Employment information, please visit https://www.asumidsouth.edu/financialaid/gainful-employment/