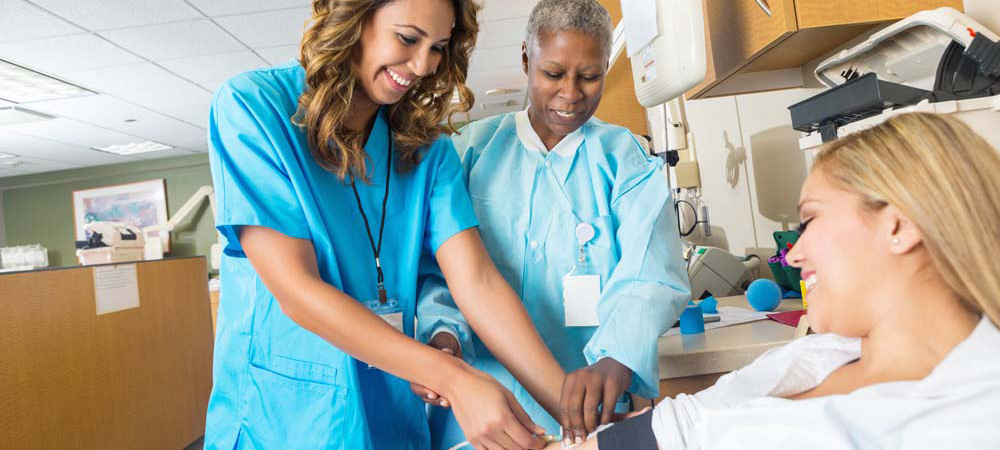 THE PROGRAM
The Phlebotomy Program teaches students the hands-on skills of drawing blood, preparing specimens for
transport and handling other important lab specimens. Successful completion of the program should prepare
students to pass the national certification examination. Phlebotomy technicians work in hospitals, clinics, and
doctor's offices.
A Phlebotomist is a key member of the medical community and their job duties typically involve:
Drawing patient blood samples and applying pressure after blood has been drawn
Using office database to update patient records
Properly cleaning and sterilizing equipment used in procedure
Sending blood and/or urine samples to a lab for testing
Explaining process and procedures to patients
Phlebotomists may also be responsible for taking blood pressure, pulse and respiration readings*
*  https://www.nationalphlebotomy.org/Certified_Phlebotomist
For more information about the Phlebotomy program, or how to register:
Explore our programs and find your path at ASU Mid-South.


Students with disabilities verified by a qualified physician are entitled to reasonable accommodations needed to complete their educational goals while attending ASU Mid-South.
For Gainful Employment information, please visit www.asumidsouth.edu/financialaid/gainful-employment/
Arkansas State University Mid-South does not discriminate on the basis of race, color, religion, gender
identity, sexual orientation, national origin, age, sex, disability, genetic information, veteran status or marital
status in any of its practices, policies or procedures, and provides equal access to the Boy Scouts and other
designated youth groups. This includes, but is not limited to, employment, admissions, educational services,
programs or activities which it operates or financial aid. The following persons have been designated to
handle inquiries regarding the non-discrimination policies:
Jeremy Reece




Title IX Coordinator




Arkansas State University Mid-South




2000 West Broadway




West Memphis, AR 72301




Phone: 870.733.6786


Email: jreece@asumidsouth.edu

Stephanie Krehl




ADA Coordinator




Arkansas State University Mid-South




2000 West Broadway




West Memphis, AR 72301




Phone: 870.733.6790


Email: accessibility@asumidsouth.edu
For further information on notice of non-discrimination, visit http://wdcrobcolp01.ed.gov/CFAPPS/OCR/
for the address and phone number of the office that serves our area, or call 1-800-421-3481.