Diesel powers the U.S. from trucks and trains to boats and planes….they all move on diesel, and jobs in the field are in high demand. Learn how to maintain and repair diesel engines in our Diesel Technology program in a high-tech shop with the latest machinery and tools.
Today's diesel technicians must be highly skilled, analytical thinkers.  That's why ASU Mid-South offers a Diesel Technology program that trains students to use the most up-to-date, industry-relevant tools and equipment.  The program focuses on steering and suspension, brakes, electrical systems, poweretrain, and ventilation systems.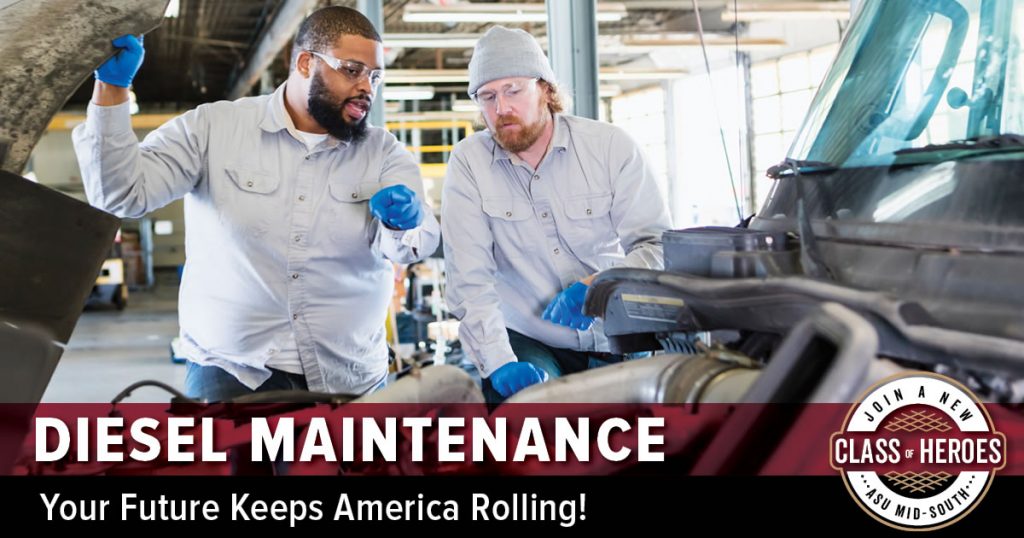 THE PROGRAM
The Diesel Technology program teaches you how to maintain and repair diesel engines and related components in a variety of vehicles and machinery. Because diesel technology and heavy truck maintenance job openings often exceed the number of qualified technicians, you can almost guarantee yourself a rewarding career by completing ASU Mid-South's program.
To make career opportunities even better, ASU Mid-South has joined with Montana State University-Northern to offer a bachelor's degree in Diesel Technology on our campus.  MSU-N boasts a nationally-recognized program, and its graduates often have high-salary job offers (sometimes in the six-figure range) before they receive their diplomas.
For more information about the Diesel Maintenance Technology program, or how to register:
Explore our programs and find your path at ASU Mid-South.

Students with disabilities verified by a qualified physician are entitled to reasonable accommodations needed to complete their educational goals while attending ASU Mid-South.
For Gainful Employment information, please visit https://www.asumidsouth.edu/financialaid/gainful-employment/