Greyhounds, Give It A Shot! It's our best chance for COMMUNITY IMMUNITY
Information on this page is from the Centers for Disease Control and Prevention (CDC)
COVID-19 vaccines are safe!
COVID-19 vaccines were developed using science that has been around for decades. They are not experimental. They went through all the required stages of clinical trials. Extensive testing and monitoring have shown that these vaccines are safe and effective.
COVID-19 vaccines have received and continue to undergo the most intensive safety monitoring in U.S. history.*
COVID-19 vaccines are effective!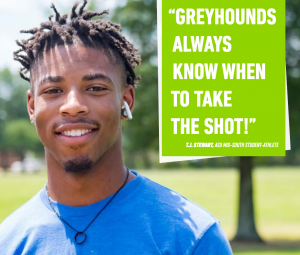 COVID 19-vaccines are effective. They can keep you from getting and spreading the virus that causes COVID-19. COVID-19 vaccines also help keep you from getting seriously ill even if you do get COVID-19.
Getting vaccinated yourself may also protect people around you, particularly people at increased risk for severe illness from COVID-19.
All COVID-19 vaccines currently available in the United States are effective at preventing COVID-19 as seen in clinical trial settings.
Delta Variant
The Delta variant causes more infections and spreads faster than earlier forms of the virus that causes COVID-19. It might cause more severe illness than previous strains in unvaccinated people.
Vaccines continue to be highly effective at preventing hospitalization and death, including against this variant. Fully vaccinated people with breakthrough infections from this variant appear to be infectious for a shorter period.
Get vaccinated and wear masks indoors in public spaces to reduce the spread of this variant.
Once you are fully vaccinated, you can start doing more
After you are fully vaccinated for COVID-19, you can resume many activities that you did before the pandemic. You can resume activities without wearing a mask or staying 6 feet apart more quickly if more people get vaccinated.
People are not considered fully vaccinated until 2 weeks after their second dose of the Pfizer-BioNTech or Moderna COVID-19 vaccine, or 2 weeks after a single-dose of Johnson & Johnson's Janssen COVID-19 vaccine. You should keep using all the tools available to protect yourself and others until you are fully vaccinated.
Vaccination is a safer way to help build protection!
Get vaccinated regardless of whether you already had COVID-19. Studies have shown that vaccination provides a strong boost in protection in people who have recovered from COVID-19.
COVID-19 is still a threat to people who are unvaccinated. Some people who get COVID-19 can become severely ill, which could result in hospitalization, and some people have ongoing health problems several weeks or even longer after getting infected. Even people who did not have symptoms when they were infected can have these ongoing health problems.
None of the COVID-19 vaccines can make you sick with COVID-19
None of the COVID-19 vaccines contain the live virus that causes COVID-19, so a COVID-19 vaccine cannot make you sick with COVID-19.