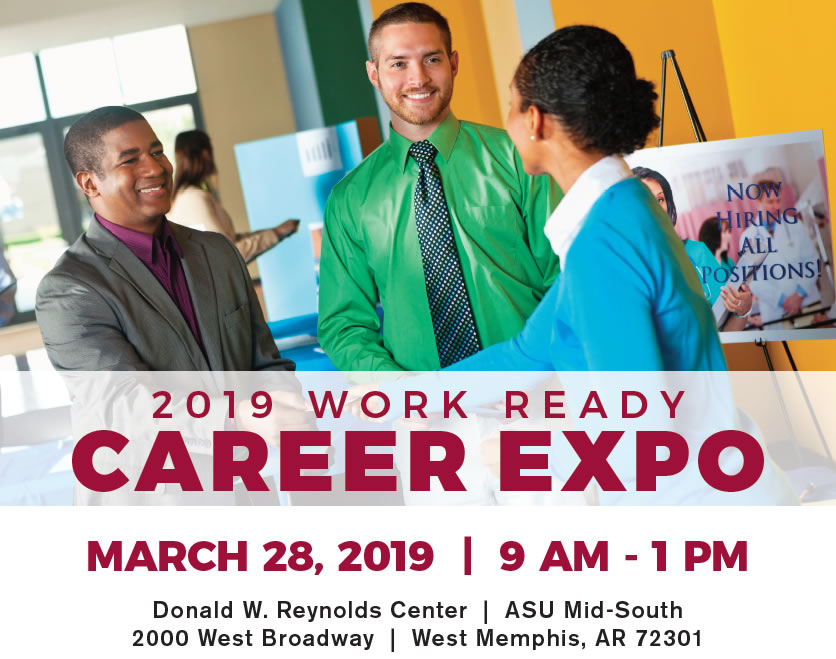 SPONSORED BY ASU MID-SOUTH AND ARKANSAS WORKFORCE CENTER OF WEST MEMPHIS
Employers
Take advantage of this unique opportunity to meet with motivated and talented individuals. Gain visibility and maximize recruiting potential for your organization. Network with other businesses and organizations. This event is open to ASU Mid-South students, Arkansas Workforce Center job seekers, and the entire community.
For More Career Expo Information, Contact
Cortez Washington
Career Services Coordinator
Arkansas State University Mid-South
Office: 870-733-6702
cvwashington@asumidsouth.edu
If you have any trouble registering online,
please contact Leigh McDaniel @870-733-6714 to register by phone.


Students
Students, you have several opportunities to prepare for the Career Expo. Come and hone your job-hunting and interviewing skills!
Resume Builder Workshop
Students are encouraged to attend one of two Resume Builder Workshops
Tuesday, February 5 and Tuesday, February 19
Magruder Hall, Room 108
10:00 a.m.-12:00 p.m.
Mock Interviews
Career Services will host its spring Employer Mock Interviews
Thursday, February 28
Magruder Hall, Room 108
9:00 a.m. – 12:00 p.m.
Human Resources Directors and Managers from Upper Edge Tech, Automatic Conveyor Systems, Auto-Chlor, City of West Memphis, Arkansas Department of Transportation, Arkansas Department of Rehabilitation and others will be on campus.
Take advantage of this one-of-a-kind opportunity!
The benefits of this exercise include:
• One-on-one time with Human Resources professionals
• Interviewing techniques and skill-building
• Confidence booster
• Constructive feedback and coaching to students
• Networking with employers
Career Fair Preparation Workshop
Students are encouraged to attend one of two Career Fair Preparation Workshops
Tuesday, March 5 and Tuesday, March 12
Magruder Hall, Room 108
10:00 a.m.-12:00 p.m.

To schedule an appointment with the Career Services department just click on the link below!