Learning Support Resources
ASU Mid-South is committed to providing you valuable support resources during this time of remote instruction.  While the process may be less familiar, our desire to help you succeed remains consistent.
Whether you need assistance from Financial Aid, Admissions, Tutoring, Advising, or Registration, you should find the answers and resources below.  If you cannot find the answers you are looking for below, you can always email us at greyhoundsupport@asumidsouth.edu and we will assist you!If you need help, ASK for it!!
Tutoring and Learning Assistance
Can I get tutoring assistance on line?
Tutoring support: You can send a request for tutoring help to AskaTutor@asumidsouth.edu.  Tutors from our Learning Success Center are monitoring the email and will respond to help.  Please include the class and topic with which you need help, so the right person can respond.  You can also send a specific question for help – type it in; or take a picture and send it!  Ask a Tutor responses are typically received within 24 hours, Monday through Friday.
Introducing TutorMe — free resource that is available to all ASU Mid-South students 24/7!
Connect with a live tutor using video and/or audio.
You can check out this video to see how it works.
How to Access TutorMe:
Log into Canvas and open the class in which you need tutoring.
Click on the TutorMe link then "Connect With a Tutor."
If you have any questions, please contact
Stephanie Krehl at slkrehl@asumidsouth.edu.
What if I need help with my writing projects?
Writing support: You can submit papers for help to WritingTutor@asumidsouth.edu.  Our writing tutors from the Learning Success Center will review your paper and return it with suggestions.  Writing Tutor feedback is typically received within 24 – 48 hours, Monday through Friday.
Spelling, Grammar, and Punctuation:  Create a Grammarly account to help while you write.
1.       Go to https://www.grammarly.com/edu/signup
2.       Log out of your individual account https://auth.grammarly.com/logout_redirect
3.       Go to https://www.grammarly.com/edu/signin and log in
4.       Check your email (Inbox and spam folder) for a confirmation email and click the link inside. It will redirect you to the right page for the next step;
5.       On the new page, please apply the access code WHOhwrvzHcyWxRvE
How can I access my course work?
Access to your course work is available on Canvas, our Learning Management System. Please click on this link to the Greyhound Portal. https://www.asumidsouth.edu/learning-management-portal/
If you experience difficulty in signing in to Canvas, email support@asumidsouth.edu for assistance.
If you have other questions related to support needed to succeed in your classes, send the questions to AskaTutor@asumidsouth.edu, and we will do our best to help.
Advising and Registration
How Do I Contact My Advisor?
ASU Mid-South is committed to your success, and your academic advisor is here to help!  Email is the best way to contact your advisor if you have questions.  If you need help finding your advisor's contact information, follow these instructions:
High school students should use the email: careercoach@asumidsouth.edu
All other students should have a course in Canvas called "Advising."  When you open that class, the first page shows your advisor's picture and contact information.  Remember, because campus is closed, the best way to communicate with your advisor is using the email address shown on that page.
If you still have trouble finding the information, email Stephanie Krehl at slkrehl@asumidsouth.edu, and she will help you connect with your advisor.
How Do I Register Online as a Returning Student?
If you are a returning student, you should first contact your advisor.  Your advisor will work with you according to your program plan and assist you in registering for classes for Summer '20 and/or Fall '20.  Please see the above information on contacting your advisor, or email myadvisor@asumidsouth.edu
How Do I Register Online as a New Student?
If you are a new student, an Educational Opportunity Center counselor will assist you in completing admission applications, Financial Aid applications, submitting admission documents to admission, and registering for classes.  To find out more about the Educational Opportunity Center, go to https://www.asumidsouth.edu/trio-eoc/.  You can also email admissions@asumidsouth.edu and someone will get back to you to assist.
​How do I take my placement tests (Accuplacer)?
If you need to take the Accuplacer for placement, we are now doing "drive-through testing."  Test-takers will take the test in the safety of their own vehicle while being proctored by our testing staff.  To sign up for a time, go to the
Testing Sign-Up
and fill out the form at the bottom of the page.  The
Testing Center
page also has more details.  If you have questions, email
testing@asumidsouth.edu
.
For additional information regarding registration, please contact admissions@asumidsouth.edu
2020 Graduation Information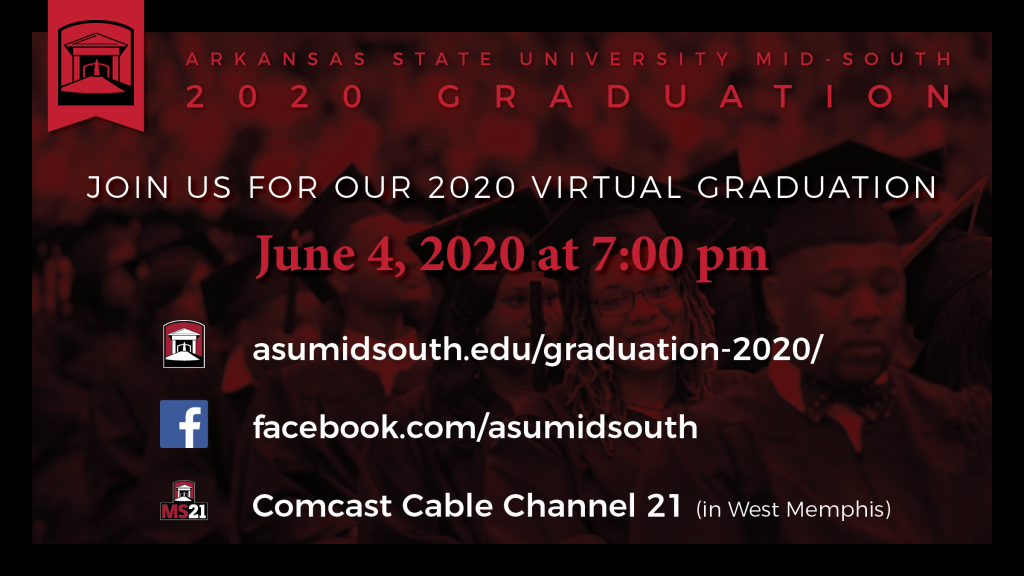 UPDATE May 1, 2020
We have set the date and time for our 2020 Virtual Commencement.  It will be broadcast (ASU Mid-South website, Facebook, local cable channel, and on Vimeo) on June 4th at 7PM.  Students are being engaged in the planning, and our goal is to create something really special. You won't want to miss it, so save the date!
GRADUATES — Watch your email for special instructions on how to get us photos and videos to show during graduation.
PREVIOUS UPDATES
April 2, 2020
Dear 2020 Graduates,
I hope this email finds you and your family well and coping successfully with the challenging events of the past several weeks. My heart is with each of you during this difficult time.
I'm writing to let you know that, after much thought and deliberation, ASU Mid-South has decided to postpone our 2020 Spring Commencement Ceremony. As we continue to monitor the news from both a national and statewide perspective, it appears less and less likely that we will be able to safely assemble on our original date of May 14. Although we had hoped to wait a little longer to make this decision, we realized that continued uncertainty creates more stress for everyone – especially those of you with family who would be traveling in for the ceremony.
Please understand, your commencement ceremony is postponed, not cancelled. As a community college graduate myself, I understand the significance of this milestone event, both for you and for your families. Our faculty and staff, too, look forward to this event each year, as it's often our last chance to celebrate your accomplishments before you move on to more advanced study or into the workforce. Postponement simply gives us time to get your perspective on the type of experience you want, given the current limitations on social gatherings.
It's also important to understand that if you complete your degree requirements, you are still graduating at the end of the semester. Commencement is a ceremony celebrating your graduation. It is not a requirement for graduation. That means you can continue with your post-graduation plans, whether that be going on to more advanced study or into the workforce. Your diplomas will be mailed to you a few weeks after the end of the semester, as is our normal procedure.
While I am heartbroken we will not be able to celebrate together in person on May 14, I look forward to celebrating your accomplishments in a unique and memorable way on a later date. This semester has been one for the history books, and we want your commencement to be fitting of the unique place ASU Mid-South's Class of 2020 holds in that history. With your help, I have no doubt we can make that happen. We'll be reaching out to you soon via email for your input, so please be on the lookout for that communication.
Sincerely,


Debra West, Ph.D.
Chancellor
Financial Aid, Scholarships and Financial Resources
How Can I Get Help with Financial Aid?
ASU Mid-South has a team of specialists to assist you in determining options to pay for your college.
If you need financial aid, and have not completed your financial aid/FAFSA, you may submit your application electronically at www.fafsa.ed.gov. Be sure to include ASU Mid-South's Title IV school code: 015862. Once your application has been processed, you will receive an e-mailed Student Aid Report (SAR) from the federal processor. Our office will receive an electronic version of your FAFSA within 5-7 business days after it has been completed. At this point, we will determine what additional documentation our office needs.
Can I Set Up a Payment Plan Online?
We are pleased to offer you a convenient, online method to pay through ​Nelnet Campus Commerce for Arkansas State University Mid-South https://www.nbspayments.com/signin/4JNJ3
How Can I Contact Career Pathways?
For qualified students, Career Pathways may be able to assist with Tuition and Books, Child care, Gas Cards, Testing / Licensure Fees, Work Tools, Job Readiness and Career Guidance.
To Qualify, you must be an Arkansas resident and be the parent or legal guardian of a child under 21 in the home. Some income restrictions apply.  Complete the Career Pathways Qualification Form and a staff member will contact you ASAP.  For questions, please email jwoodson@asumidsouth.edu
How Do I Apply for Scholarships?
Even if you qualify for financial aid, you sometimes need extra help in covering some of the costs associated with pursuing your education. ASU Mid-South has several scholarship opportunities that may help you smooth out the rough spots.  Please review scholarship assistance and forms here https://www.asumidsouth.edu/financialaid/scholarship/
For any additional assistance regarding financial aid or scholarships, contact finaid@asumidsouth.edu or go to https://www.asumidsouth.edu/financial-aid-start/
How do I Make a Payment, Check on a Balance, Pay for a Transcript?
If you need to make a payment for classes, check on a payment plan or a balance, or pay for a transcript request, simply contact the Cashier at stubill@asumidsouth.edu with your question. Please include your student ID number in the email.
We will be waiving our volunteer hour requirement for the Spring 2020 & Summer 2020 semesters.
Please note this is for the students receiving:
ASU Mid-South Academic Scholarship
ASU Mid-South Chancellor's Excellence Scholarship
ASU Mid-South GED Scholarship
ASU Mid-South Principal's Scholarship
Crittenden County Educational Opportunity Scholarship
Jan Thomas Scholarship
Wallace Chandler Memorial Scholarship
Herbert Carter Scholarship
Grafton Moore Scholarship
Textbook & Bookstore Information
Secondary Center Technical Students Textbook Return:
You may turn in your textbooks with a no contact drop off on the following days at the Workforce Technology Center Lobby Area:
Tuesday, May 5 from 10:00 am thru 2:00 pm
Wednesday, May 6 from 2:00 pm thru 6:00 pm
Thursday, May 7 from 10:00 am thru 2:00 pm
Tuesday, May 12 from 10:00 am thru 2:00 pm
Wednesday, May 13 from 2:00 pm thru 6:00 pm
There will be a designated table for textbook drop-off.
How do I contact the Bookstore about my textbooks?
The bookstore will be contacting students concerning rental returns via email over the coming days. We will be working with the school to determine the return dates and locations for returns. Should you have any questions, please contact us at asumidsouthbookstore@bbasolutions.com. The health and safety of our students, faculty, and staff is our greatest concern in these times. Please take care.
How do I get my textbooks for my summer classes?
Summer semester books can be accessed online at midsouth.textbooktech.com  beginning May 11th.  If you are receiving financial aid for the Summer term, books can be charged on financial aid starting May 18. The last day to charge books on financial aid for summer will be June 2.
Textbooks can be shipped to your home address.  Ebook rentals, where available, are found in the Textbook Purchase/ Rental Options.  The ASU Mid-South bookstore can set-up direct access or email access codes for the online classes requiring those types of materials.
For questions, email asumidsouthbookstore@bbasolutions.com
Technology and Internet/Wi-Fi Assistance
Where can I go to find free Wi-Fi in Crittenden County?
ASU Mid-South
West parking lot from the University Center south towards the Dog House
Gym parking lot on the east side of the building
Allied Health building parking lot on the east side of the building
Magruder Hall north parking lot and parking lot on the east side of the building
University Center north parking lot
Note:
ASU Mid-South students should use the network: ASU-STU-STA and log in with the same UserID and password they use on campus computers.
Guests may use the advertised network ASU-Mid-South-Guest and log in with the UserID Guest and the password Midsouth. Please contact support@asumidsouth.edu if you have any questions.
All McDonalds Restaurants
Marion Public Library Parking Lot
The network is WPL and the password is readbooks (all one word, all lowercase). Available 24/7.
West Memphis Chamber of Commerce – Parking Lot.
Password posted on the side door for visitors.
First Baptist Church – (Missouri St.) West Memphis
Internet Essentials – Xfinity's assisting Low Income Americans
Xfinity is looking for ways to help through our Internet Essentials program, the nation's largest and most comprehensive broadband adoption program for low-income Americans. Effective March 16, we are putting in place two substantial program enhancements to help these families deal with this crisis.
Xfinity will make it even easier for low-income families who live in a Comcast service area to sign up by offering new customers 60 days of complimentary Internet Essentials service, which is normally available to all qualified low-income households for $9.95/month.
Xfinity is increasing Internet speeds for the Internet Essentials service from 15/2 Mbps to 25/3 Mbps for all new and existing customers, which will be the speed of the service going forward. In this way, we will ensure that Internet Essentials customers will be able to use their Internet service for all their increased needs as a result of this health crisis.
Xfinity wants to make it as fast and simple as possible to access this service:
To receive the increased Internet speeds, existing customers will not need to do anything.
For new customers, applicants can simply visit www.internetessentials.com. The accessible website also includes the option to video chat with customer service agents in American Sign Language. There are also two dedicated phone numbers 1-855-846-8376 for English and 1-855-765-6995 for Spanish.
If you have internet service, but cannot access your courses online, go to https://www.asumidsouth.edu/learning-management-portal/
Personal Assistance Resources and Community Resources
Where Can I Find Info on Meals for Kids While Their School is Closed?
The U.S. Department of Agriculture (USDA) has launched an online tool – the "Meals for Kids" Site Finder – to help families find meals for children while schools are closed during the coronavirus pandemic. This is the latest in a series of swift actions USDA has taken to keep children and low-income individuals fed during the ongoing health crisis.
The "Meals for Kids" interactive map directs people to local sites where kids can get free meals. The site finder currently lists more than 20,000 meal sites from 23 states, and more sites will be added as states submit data each week. The map is available in both English and Spanish at www.fns.usda.gov/meals4kids.
This is such a stressful time. Is there any counseling help available?
Yes, this is a time of change which can add stress to what may already be a challenging time. ASU Mid-South provides free access for its students to CONCERN counseling service. CONCERN counselors can help you though a crisis or they can help you to manage common problems that anyone can experience (family or marital problems, relationship problems, grief, emotional or psychological stress, financial worries, alcohol or drug abuse, gambling problems…). This service is strictly confidential. To make an appointment, call (901) 458-4000 or (800) 445-5011. Download Concern Brochure
Links to Community Resources
Department of Human Services (DHS): https://humanservices.arkansas.gov/resources/response-covid-19
Unemployment Benefits – https://www.ezarc.adws.arkansas.gov/
SNAP – https://access.arkansas.gov/Welcome.aspx –
Food pantries –  http://foodbankofnea.org/crittenden-county/