West_11092020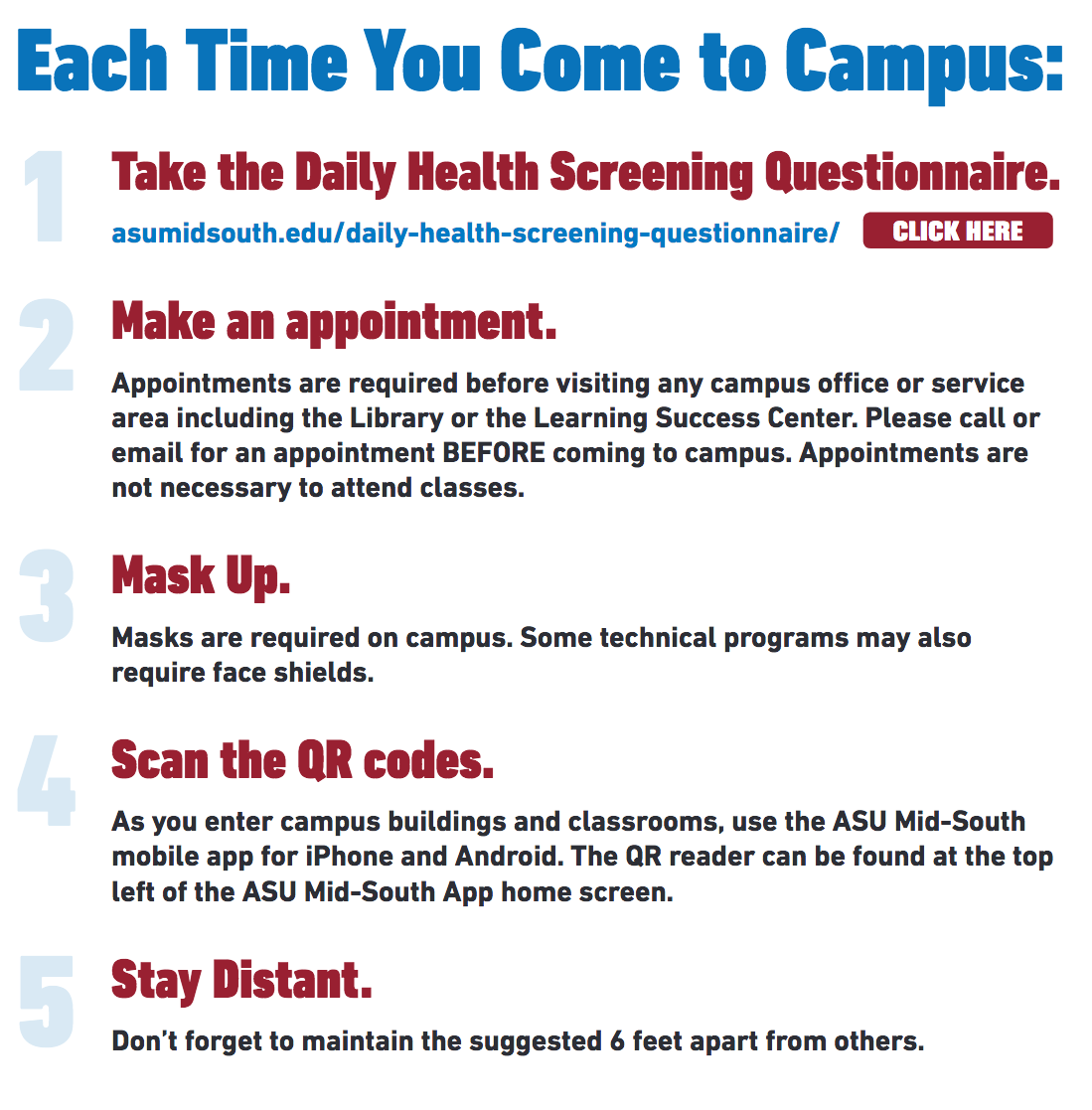 Help with Registration:
New adult students who need help with registration should contact admissions@asumidsouth.edu.
New and returning concurrent students who need to register or adjust their schedule should contact careercoach@asumidsouth.edu.
Textbooks, Student IDs, Parking Passes:
For questions about textbooks, contact the ASU Mid-South bookstore at asumidsouthbookstore@bbasolutions.com, or purchase your textbooks on-line from https://midsouth.textbooktech.com/.
Students who need student IDs and parking passes can secure them by scheduling an appointment with Enrollment Services. Email admissions@asumidsouth.edu.
Contact Your Advisor.
Adult Students who need to speak with an advisor can email myadvisor@asumidsouth.edu.
Concurrent students who need to speak with an advisor should email careercoach@asumidsouth.edu.
Take your placement tests (Accuplacer).
Visit the Testing Center page for more details.  If you have questions, email testing@asumidsouth.edu.
Get Help with Financial Aid.
Submit your FAFSA application electronically at www.fafsa.ed.gov. Be sure to include ASU Mid-South's Title IV school code: 015862.
For information about financial aid or to research scholarships, visit our 'Pay For College' page at https://www.asumidsouth.edu/financial-aid-start/.
Set Up a Payment Plan Online.
Visit the online method to pay through ​Nelnet Campus Commerce for Arkansas State University Mid-South https://www.nbspayments.com/signin/4JNJ3
Contact Career Pathways.
For qualified students, Career Pathways may be able to assist with tuition, books and more. Complete the Career Pathways Qualification Form and a staff member will contact you ASAP.  For questions or to schedule an appointment, please email jwoodson@asumidsouth.edu
Scholarships
For scholarship assistance and forms visit  https://www.asumidsouth.edu/financialaid/scholarship/
Tutoring Assistance
Contact 870-733-6766 or email askatutor@asumidsouth.edu to make an appointment.
Request a transcript.
https://www.asumidsouth.edu/students/transcript-request/