The Arkansas Small Business and Technology Development Center is a higher-education-based economic development program that assists entrepreneurs, both new and seasoned. We help with every aspect of business creation, management, and operation.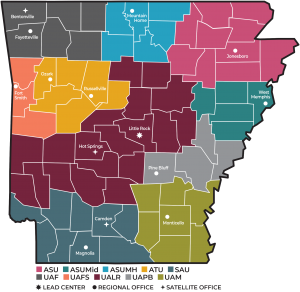 Through our locations around the state, ASBTDC works with all types of for-profit businesses, from home-based to high-tech. You can receive one-to-one confidential consulting and cutting-edge market research at no charge, or expand your expertise by participating in our affordable training.
As the state's premier business assistance provider, the ASBTDC is dedicated to helping small businesses achieve success and to promoting economic development throughout the state. See our results
Unique among Arkansas economic development organizations, ASBTDC serves businesses from any county in Arkansas, in any industry sector, at any stage of business development.
The ASU Mid-South office was established in 2021 with Jack Poff Jr. as director to provide professional assistance to startup and existing business in Crittenden, Cross, Lee, St. Francis, and Woodruff counties. This location operates as a regional office of the ASBTDC statewide network. Poff, a REALTOR since 2005, has first-hand small business experience and a history of community involvement with the West Memphis Chamber of Commerce, Main Street West Memphis, and festival and city economic development committees.
Contact:
Jack Poff Jr | Director
Arkansas Small Business and Technology Development Center
Arkansas State University Mid-South
Marion Berry Renewable Energy Center Room 139
2000 W Broadway West Memphis, AR 72301
(870)733-6805 office
Email: jlpoff@asumidsouth.edu
To request our free business consulting click here
Follow us on Facebook and Instagram!
The Arkansas Small Business and Technology Development Center at Arkansas State University Mid-South is funded in part through a cooperative agreement with the U.S. Small Business Administration through a partnership with the University of Arkansas at Little Rock and ASU Mid-South. All ASBTDC programs are extended to the public on a non-discriminatory basis.