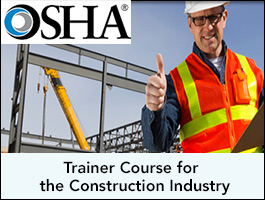 The OSHA #500 course is designed for individuals interested in teaching the OSHA 10- and 30-hour construction safety and health Outreach Training Program to their employees and other interested groups. Using OSHA Construction Standards as a guide, special emphasis is placed on those topics required in the 10-and 30-hour programs as well as those which are most hazardous. Students are briefed on effective instructional approaches and use of visual aids and handouts. This course allows the student to become a trainer in the OSHA Outreach Training Program, to conduct both 10-and 30-hour Construction Outreach classes, and to issue cards to participants after verifying course completion.
Prerequisites:  

·  Completion of the OSHA #510 Standards for the Construction Industry (copy of completion certificate required).
·  Five (5) years of construction industry safety and health experience. A degree in occupational safety and health, a Certified Safety Professional (CSP) or a Certified Industrial Hygienist (CIH) designation may be substituted for two (2) years of work related experience. Experience must be documented on the Prerequisite Verification Form and submitted to the DED/UTA office:
·  A complete Prerequisite Verification Form must be submitted at least 7 business days prior to class. Approval can take up to 7 business days once the complete Prerequisite Verification form is received.
Enroll Today! 866.906.9190 | www.uta.edu
When:  Tuesday-Friday,  April 25-28, 2017
Times:  8 am – 5 pm
Where:  MB 136, Marion Berry Renewable Energy Center, North Campus, ASU Mid-South
Contact:
Alexander Lamm
(870)733-6012
alamm@asumidsouth.edu