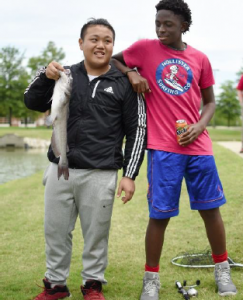 Eighth and ninth grade students from the West Memphis School District recently participated in a Career Exploration Camp. The camp was funded through the Arkansas Career Coach grant housed on the Arkansas State University Mid-South campus.
During the two week camp, students participated in either a Hospitality program or a Machining & Mechatronics program. Students toured local industries and participated in hands-on activities. Industry tours included University of Memphis Kemmons Wilson Hospitality Center, Big John's Shake Shack, Mitsubishi and Smith & Nephew, Inc.
Through the manufacturing camp program, students explored the world of manufacturing and were introduced to the endless career opportunities available in the industry. The hands-on activity for this program included each participant making their very own fishing pole. In the world of hospitality, students were exposed to all of the opportunities available in the hospitality industry. The hands-on project for this group included cooking various meals and researching American, South African, and Hispanic cultures.
The camp ended with opportunities for students to show their family, friends, and ASU Mid-South staff and faculty what they learned. The manufacturing students tested the fishing poles they made at the pond on campus. For most of these students, it was their very first time to go fishing. The hospitality students held a banquet where most of the food was prepared by the students themselves. They also did a presentation about the cultures they researched, highlighting the things they learned.
"Our faculty did an amazing job developing a curriculum that was both educational and fun. We offer a big thanks to all staff and faculty for facilitating and volunteering, especially, Sarah Black, Donna Shaull, Cortez Washington, John Judd, Gary Giordano, Kelly Beard, Marjorie Gardener and Chef Sparks. We are also very appreciative of the support from Melissa Smith of Wonder Junior High and Brian Hawkins of East Junior High," said Lydia Archibald, Director of Recruitment at ASU Mid-South.