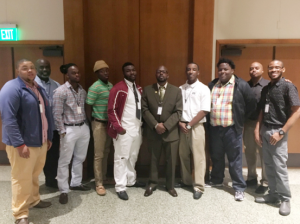 Twelve representatives from Arkansas State University Mid-South recently attended the National Consortium on College Men of Color (NCCMC). The conference was held on the San Diego State University campus in San Diego, California June 8-9.
The NCCMC conference allows students to network with others from different colleges/universities across the United States and learn innovative ways to be successful in all aspects of life.  In addition, the conference supports faculty, staff and administrators with access to information and resources that would help implement or enhance a Men of Color program on their campus. Types of resources include topics such as funding streams, interventions, and objectives.
Troquane Watkins, Vice President of the ASU Mid-South Chapter of Brother 2 Brother (B2B), commented "We learned so much about how to become more active in our community and on our campus. We were told 'Don't be that kid in the back of the class who never gets involved.' We were encouraged to raise our hands, ask the questions and let people know we are there."
Rodney Ivy, one of the student attendees agreed. Rodney feels that to properly ensure success for men and women of color, of all ages, we need to not only stress the importance of education, but people need to understand the necessity of a postsecondary education. He said, "The information that was shared and the knowledge that was gained through the CCEAL conference in San Diego, CA needs to be spread nationwide to both parents and children to better secure prosperity for all individuals."
The National Consortium on College Men of Color (NCCMC) supports postsecondary institutions in building the capacity necessary to advance outcomes for college men of color. This mission is carried out through development activities and conferences that build a community of learners who can engage in collective sense-making, organizational learning, and change. NCCMC member institutions are comprised of public and private community colleges and four year universities. The consortium efforts prioritize men who have been historically underserved in postsecondary education. As a result, intensive focus is given to African-American, Latino, Southeast Asian, Native American, and Pacific Islander men. Arkansas State University Mid-South joined the National Consortium in fall 2015.