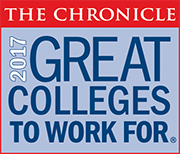 The results were released on July 2017 in The Chronicle's tenth annual report on the Academic Workplace and are based on a survey of 232 colleges and universities. The survey is the largest and most comprehensive workplace study in higher education and recognizes colleges that get the top ratings from employees on workplace practices and policies. Of the colleges and universities who participated in the survey, 57 four-year institutions and 22 two-year institutions were recognized.
ASU Mid-South is the only institution in Arkansas to be recognized and won honors in three categories: Confidence in Senior Leadership, Facilities, Workspace & Security, and Teaching Environment.
"At Arkansas State University Mid-South, we continuously strive to make our institution an enjoyable place for employees. A recent employee survey revealed three recurring strengths concerning employee satisfaction: community support and involvement, first-class facilities, and a campus culture focused on student success. ASU Mid-South is fortunate to be located in a community that supports the college mission. We have a beautiful campus and grounds kept in pristine condition," said Chancellor Dr. Debra West.
"Perhaps most importantly, though, we have faculty and staff who genuinely care about one another and the students we serve. It is said that a chain is only as strong as its weakest link. The same is true for an organization. Our institution is a great place to work because of the people who work here."
ASU Mid-South employees agree. When asked, several referenced the word family. "I believe ASU Mid-South is a great place to work because we are a family that is a very talented and caring. We are a generous group of individuals who work extremely hard in order to provide our students with a quality education and surroundings that we are extremely proud of. We hope to set a good example for our community," said Sarah Wooten, Assistant Director, Physical Plant. Beth Arnold, Administrative Specialist for Academic Affairs, commented, "It's not just a job – we are a family."
Liz McMillen, editor of The Chronicle commented, "Ten years in, the 'Great Colleges to Work For' distinction is well-known by academic jobseekers as a sign that an institution's employees are valued and given opportunities for growth even when they face financial constraints. Any college or university that's on the list is showing that they emphasize one of their most valuable assets: their faculty and staff."
Cortez Washington, Director of Career Services, agrees and credits Dr. West for her leadership as well. "ASU Mid-South is brick and mortar. Dr. West, however, is a human being that is extremely knowledgeable, grounded, and a listener. Working here, in my opinion, is a privilege more so than work. I am treated with respect and I feel valued by leadership and I am very grateful to have a career that I am passionate about as well as supported fully."
The survey results are based on a two-part assessment process: an institutional audit that captured demographics and workplace policies, and a survey administered to faculty, administrators, and professional support staff. The primary factor in deciding whether an institution received recognition was the employee feedback.
"As institutions of higher education strive to create a 'sense of belonging' for students, it is quite evident Arkansas State University Mid-South believes this critical dynamic is also important for employees," said Dr. Derek Moore, Associate Vice Chancellor for Student Success "Given the platform to be creative and innovative, along with encouraging a spirit of cooperative collaboration, I truly believe in the direction of our institution as we strive to make a 'purposeful impact' on our greater campus community."
To administer the survey and analyze the results, The Chronicle worked with ModernThink LLC, a strategic human capital consulting firm that has conducted numerous "Best Places to Work" programs, surveying hundreds of thousands of employees nationwide. For more information and to view all the results of the survey, visit The Chronicle's website at www.chronicle.com/AW17
About The Chronicle of Higher Education
The Chronicle of Higher Education is dedicated to serving the higher-education community with insights, understanding, and intellectual engagement. Academic leaders and professionals from around the world trust The Chronicle's analysis and in-depth exploration to make informed decisions.
About ModernThink LLC
As a research and consulting leader in workplace issues, ModernThink has supported a wide variety of "Best Place to Work" initiatives. The ModernThink team of organizational development experts is dedicated to helping colleges follow through and capitalize on feedback from employees and benchmark data from peers to drive meaningful change at their institutions. To learn more, visit http://www.modernthink.com.