Marion High Student Graduates from College Before Graduating High School
"Although balancing sports activities and maintaining a social life while attaining an associates degree was difficult, in the end it was all worth it," said Rachel Benson, 2017 ASU Mid-South grad AND 2017 Marion High School grad.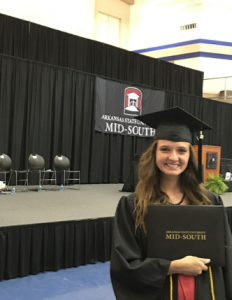 Rachel Benson graduated with an Associate of Arts degree with Summa Cum Laude honors on May 11, 2017 – a week before her high school graduation on May 18. She is the first Marion High School student to accomplish this feat in over ten years, and only the third student to accomplish it in the history of Arkansas State University Mid-South. In 2016 Harleigh Fagan, a West Memphis High graduate also completed her associate level degree and graduated in the same month as her high school graduation.
"Rachel is the first student from Marion to complete her associate's degree before high school graduation in more than 10 years… AND she is the first since the state introduced stricter elective coursework requirements," confirmed Jeremy Reece, Vice Chancellor for Student Affairs for ASU Mid-South.
Rachel began her college experience in her junior year as a Thomas B. Goldsby Scholar. At the end of her 11th grade year, she was presented with the opportunity to take all of her classes at ASU Mid-South. She made the decision to obtain her associates degree and she took over 40 hours of classes after her junior year of high school to complete her associate's degree.
Rachel is the Daughter of Randy and Sheryl Benson. "This was such an amazing opportunity for Rachel!" exclaimed her parents, "I hope Rachel's accomplishment will encourage other students to further their education.  After all, they have such a great opportunity in their own backyard!"
She is a member of Delta Beta Sigma, president of Mu Alpha Theta, a member of National Honor Society, and an honor graduate at Marion High School. In the fall, Rachel plans to attend Arkansas State University in Jonesboro, major in Science Education and she plans to pursue a career as a pharmacist.
"Throughout my experience at ASU Mid-South, I have experienced nothing but kindness," said Rachel. "I would definitely recommend earning an associate's degree to others, especially if they are certain about the career path they intend to pursue. It's been a good experience for me."