The evolution of ASU Mid-South began in 1991 following the Arkansas Legislature's approval of Act 1244. The legislation provided for the conversion of fourteen of Arkansas' vocational-technical schools into technical colleges, branches of four-year institutions, or community colleges with the additional support of a local millage. Ten "vo-techs," including Mid-South, accepted the conversion challenge.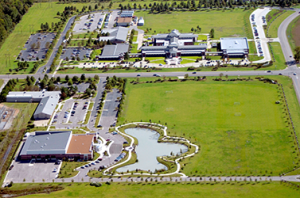 The decision could easily be described as a "leap of faith," considering the early history of the institution. In operation since 1979, the school experienced little growth or support during its first 12 years of existence. At the time of its conversion to a technical college, Mid-South served fewer than 100 students annually and offered primarily adult education classes, truck driver training, practical nursing, and data processing/clerical support courses.
In April of 1992, the Board of Trustees hired Dr. Glen Fenter as the first president of the College. The following fall, the Board began to explore the establishment of local funding to support the conversion to a community college.
Section 22 of Act 1244 allowed newly-formed technical colleges to convert to community colleges with the passage of a local millage and approval of the State Board of Higher Education. Mid-South became the only vocational technical school to take this additional step. The Board of Trustees considered conversion to a community college essential to address the weak economy, unemployment, and alarmingly low college-attendance rate in Crittenden County. The State Board of Higher Education approved the application for conversion on October 23, 1992.
A steering committee, representing diverse constituencies from across the county, came together to discuss local funding options. The group proposed a county-wide levy of four mills, a recommendation ratified by the Mid-South Technical College Board of Trustees. The voters of Crittenden County put their stamp of approval on the effort with overwhelming support on February 16, 1993. Later that year, the State Board of Higher Education granted the College authority to offer its first degree.