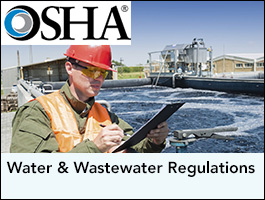 This course provides an introduction to the Clean Water Act (CWA) and the National Pollutant Discharge Elimination System (NPDES), to include the NPDES permit types for storm water, industrial wastewater, domestic wastewater, and pre-treatment. Case studies and class activities will be used to provide opportunities for participants to utilize knowledge gained during the course. The course will facilitate student's ability to attain and maintain compliance with applicable water and wastewater regulations, and to better understand how those regulations impact their organization.
Learn about the key water and wastewater program elements listed below:
History of EPA water laws
Major EPA Water & Wastewater Regulations

– Safe Drinking Water Act

Characteristics of Water
National Pollutant Discharge Elimination System (NDPES)
Types of permits:

– NPDES

    – Land Application Permit

    – Drinking Water Infrastructure Permit

Benefits of applying pollution prevention to water programs
Methods to comply with the requirements
Common violations of the Clean Water Act
Dates: January 22-24, 2020
Meets: W, Th and F from 8:00 AM to 5:00 PM
Location: Arkansas State University Mid-South MB 136
Fee: $795.00
Enroll Today: https://web-ded.uta.edu/wconnect/CourseStatus.awp?&Course=oshhom
ASU Mid-South is not an OTI Education Center, but serves as a host training organization for UT Arlington OSHA Education Center.