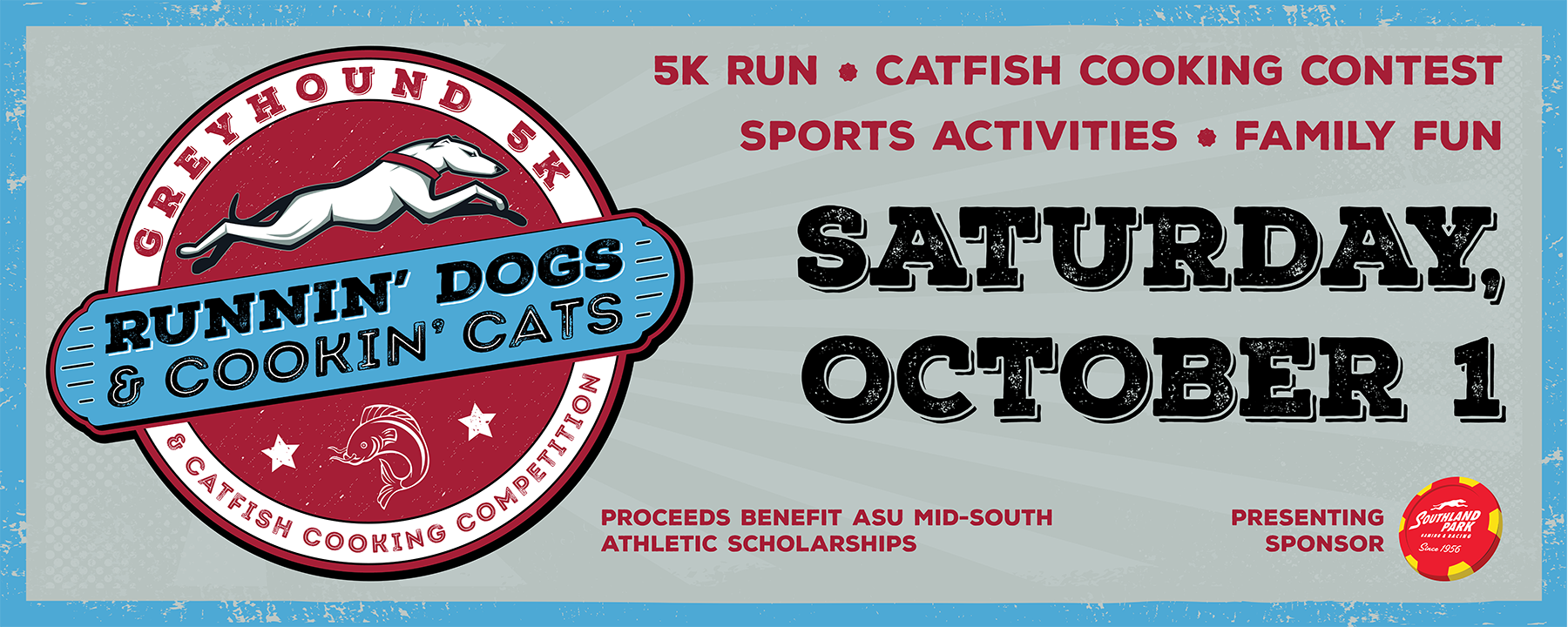 Last year, Arkansas State University Mid-South expanded their annual Greyhound 5K Run/Walk to include a full day of family fun. Now known as Runnin' Dogs & Cookin' Cats, the event will feature the traditional 5K, Pup Dash, and Kids' Zone inflatables as well as a catfish cooking competition and "people's choice" tasting, live music, vendor booths.  The event will feature Greyhound basketball exhibition games with a skills competition for adults and youth, food and concessions, and more.  All events will take place on Saturday, October 1st on the ASU Mid-South campus with all of the proceeds going to fund athletic scholarships for ASU Mid-South Greyhound basketball players. In the first four years, the college has raised more than $60,000 to give our area athletes an opportunity to compete against teams from Arkansas, Kentucky, Tennessee, Mississippi, and Missouri
Event Schedule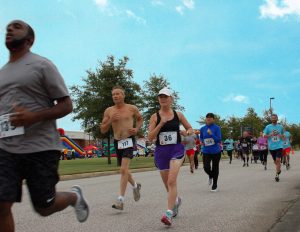 Greyhound 5K Registration/Check-In   8AM
Greyhound 5K Race/Walk Begins   9 AM
Vendor Booths  9-3PM
Music Stage  9–3 PM
Kids Zone 9–3 PM
Race After-Party  10 AM
Pup Dash 10 AM
Greyhound Exhibition/Sporting Competition  10-12 Noon
Race Awards  10:30-10:45 AM
Catfish Cooking Competition  11 AM
Sporting Competition Continues 1:00–2:30 PM
People's Choice Tasting – Catfish Competition 1:30 PM 
Catfish Cooking Competition Awards/Sporting Competition Awards  3:30 PM
Catfish Cooking Competition
Does your catfish have 'em hooked?  Enter the competition for cash prizes, trophies and big time bragging rights! 
Entry fee is only $100 and includes 12 lbs. of catfish.  Categories include Fried Catfish, Anything Catfish, Catfish Tacos, Catfish Appetizers, Hushpuppies, Anything Fried and People's Choice.
First Place winners in all categories will be presented with "catfish trophies" custom made by ASU Mid-South Welding department faculty and students.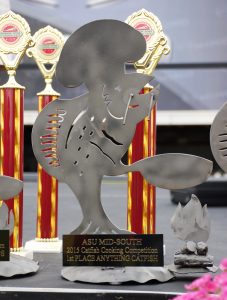 Cash prizes will be awarded to:
1st Place Fried Catfish  $250
2nd Place Fried Catfish $150
3rd Place Fried Catfish $100
1st Place Anything Catfish $250
2nd Place Anything Catfish $150
3rd Place Anything Catfish $100
Kids' Zone
Plenty to do to entertain the kids or young-at-heart as they will have the opportunity to enjoy a free inflatables "park" and games during the festivities.
Basketball Tournament
BRING YOUR GAME TO THE DOG HOUSE and prove that you have what it takes to become a champion in ASU Mid-South's first 3 on 3 Basketball Tournament.
This event will provide players of all ages with an opportunity to showcase their skills and have fun against outstanding competition.  Cash prizes will be awarded to High School, and Men's and Women's Adult Divisions.   And some big time braggin' rights as the reigning champs until next year's competition.
*    Youth, High School, and Adult Divisions
*    3-4 person teams
*    Double Elimination
*    10 minute running clock/15 point games
All money raised benefits Athletic Scholarships at ASU Mid-South.  Download the application today.
Vendor Booths & Demonstrations
Local vendors offering food, crafts, health and wellness ideas, will be set up before, during and after the race. Door prizes and giveaways will be presented throughout the day.
Live Music/Entertainment
Area bands will keep participants moving to the beat of the music with performances scheduled at various times during the day.
Food Trucks
If catfish does not satisfy your hunger, local vendors will be offering a variety of items that are sure to put a smile on your face. Have a look at top10sportsbettingsites.net to learn more. Plan to spend the day running, cooking, eating and grooving to the music!
Contact
For more information or questions, please contact Elizabeth Williams at 870-733-6764 or ecwilliams@asumidsouth.edu