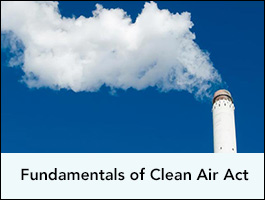 The Clean Air Act (CAA) requires facilities to implement robust air emission control practices which are regulated and enforced through a complex permitting process. During this class, the instructor will give an overview of the most pertinent CAA requirement including the New Source Review process, Title V permitting, Permit by Rule, and requirements for Hazardous Air Permitting. Using class room activities and presentations with a discussion of compliance and enforcement activities, students will gain an understanding of what requirements may apply to their facility(ies) and the path to compliance.
Enroll Today! 866.906.9190  or  https://web-ded.uta.edu/wconnect/CourseStatus.awp1?&course=19AIR201011
When: Wednesday-Friday, July 24-26, 2019
Times: 8 am – 5 pm
Where: MB 136, Marion Berry Renewable Energy Center, North Campus, ASU Mid-South
Contact:
Callie Dunavin
(870) 733-6840 office
cdunavin@asumidsouth.edu
ASU Mid-South is not an OTI Education Center, but serves as a host training organization for UT Arlington OSHA Education Center.