Spring Remote Start Letter - Students

Behaviors for Mitigating Risk of Transmission of COVID-19
Appropriate means of mitigating the risk of COVID-19 transmission for the campus community require all employees, students and visitors to:
Stay Apart – Respect physical distancing measures of keeping at least 6 feet of distance from others.
Mask Up – Wear face coverings or masks while on campus in public environments, especially where physical distancing measures are difficult to maintain.
Wash Up – Practice frequent hand-washing hygiene and respiratory etiquette.
Stay Home – If you are sick, or have been in close contact with someone who has tested positive for COVID-19.
Abide by the rules for everyone's health. Refusal to abide by these requirements may result in student or personnel disciplinary action.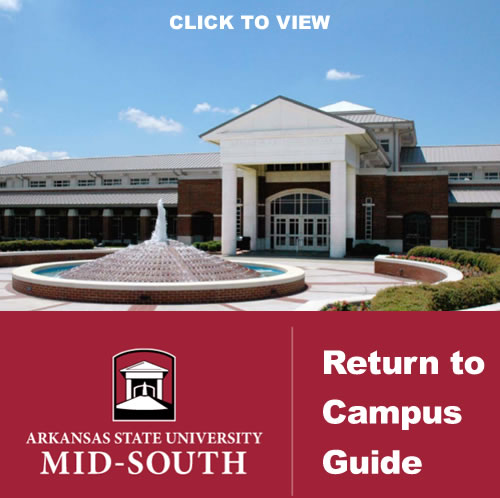 Return to Campus -- What Daily Steps Must Each Employee and Student Follow?
 Take the Daily Health Screening Questionnaire here: https://www.asumidsouth.edu/daily-health-screening-questionnaire/
All students, staff and visitors to the ASU Mid-South campus are required to complete a Daily Health Screening Questionnaire to assess that they are not exhibiting COVID-19 symptoms or a fever prior to coming to campus. The Daily Health Screening Questionnaire is available on the ASU Mid-South website https://www.asumidsouth.edu/daily-health-screening-questionnaire/, on the ASU Mid-South mobile app, and is displayed on all entrances to campus buildings.
Employees, students, and visitors must acknowledge that the Daily Health Screening Questionnaire has been performed, that they are entering a public space and that they are there of their own free will. These daily checks are essential to maintaining a healthy campus environment. ASU Mid-South may institute additional monitoring or screening measures as required by ADH.
The Daily Health Screening Questionnaire:
Have you had any of the following NEW symptoms in the last 7 days?
| | | | |
| --- | --- | --- | --- |
| Fever or chills | Shortness of breath | Diarrhea | Cough |
| Vomiting | Loss of taste or smell | Sore throat | Flu-like symptoms |

OR – In the past 7 days, do you know if you have been in close contact (less than 6 feet apart for cumulative total of more than 15 minutes in a 24-hour period) with someone with fever or chills, cough, sore throat, shortness of breath, vomiting, diarrhea, loss of taste or smell, any flu-like symptoms, or a diagnosis of COVID-19?
Stay home if you answer YES to either of these questions, or if have any symptoms of illness, follow these two steps:
• Complete the NYIT COVID-19 Reporting Form below.
• Notify supervisor if employee; notify instructor if student.
2.  Wear a face covering.
All students, faculty, and staff are required to wear a face covering in public spaces. [Exceptions may be made for those who have a disability documented through the Office of Disability Services (students) or Human Resources (faculty/staff)].
Ensure the face covering completely covers your nose and mouth, and is worn at all times when around other people.
3.  Honor physical distancing.
Work and study at least 6 feet away from others.
Do not gather in groups.
4.  Wash your hands.
Often, and for at least 20 seconds.
5.  Practice cough/sneeze etiquette.
Use a disposable tissue or cough into your sleeve.
6.  Abide by the rules for everyone's health.
Refusal to abide by these requirements may result in student or personnel disciplinary action.
Who Should NOT Come to Campus
Anyone exhibiting symptoms of illness — if you are not feeling well, stay home. Complete the NYIT COVID-19 Reporting Form found on the Coronavirus page of the ASU Mid-South website.(link under development, coming soon). Notify your supervisor if you are an employee, or your instructor if you are a student.
Any student or employee who:
a. Tests or is diagnosed positive for COVID-19;
b. Is exposed through close contact; or
c. Is experiencing symptoms of COVID-19 who has not received written documentation from the Arkansas Department of Health, or your state health department. The documentation process is initiated with the completion of the NYIT COVID-19 Reporting Form as part of the contact tracing services provided by NYIT.
Non-essential visitors and guests — only essential, official visitors and guests here for academic or business purposes should be invited on campus. Your Vice Chancellor or Associate Vice Chancellor must approve any essential visitors to campus. This does not include deliveries made to the Shipping/Receiving Department or Café Grill. All approved visitors to campus must comply with the ASU Mid-South Return to Campus Guide.
Using QR Code Readers on Campus
ASU Mid-South recently launched its mobile application available for iPhone and Android devices. One of the features available within the application is a QR code reader which allows employees and students to gain and record access to service areas on campus such as Greyhound basketball games, the Learning Success Center, Library and Café Grill. Additionally, some faculty might use the QR code reader to record a student's attendance to classes or labs.
The availability of QR unique codes on easily accessed and visible signs around campus will allow employees and students to move about campus easily by simply accessing the reader on the mobile application and scanning the appropriate QR code. You will see QR codes at the open entrance to each of our buildings and at each service location such as classrooms, Library, Learning Success Center, and certain high-traffic offices such as the Financial Aid, Admissions, and Business Offices.
When scanned, the QR reader records the date and time of your access to an area. Should a COVID-19 diagnosis be made within our campus community, if requested, the data would assist ADH in determining those with whom the diagnosed person likely came in direct contact, and the ADH would notify those who were at risk to exposure.
Frequently Asked Questions
1. What is COVID-19?
Coronavirus disease 2019 (COVID-19) is a respiratory illness caused by a virus called SARS-CoV-2. Symptoms often include a fever, cough or shortness of breath. The virus is thought to spread mainly from person to person:
• Between people who are in close contact with one another (within about 6 feet).
• Through respiratory droplets produced when an infected person coughs, sneezes, or talks.
Recent studies show that the virus can be spread by people before they develop symptoms or who never develop symptoms. It may be possible that individuals can get COVID-19 by touching a surface or object that has the virus on it and then touching their own mouth, nose, or possibly their eyes. However, this is not thought to be the main way the virus spreads. Although the virus can survive for a short period on some surfaces, it is unlikely to be spread from products or packaging. Older adults and people of any age who have serious underlying medical conditions may be at higher risk for more serious complications from COVID-19.
2. What if someone presents symptoms?
If someone around you appears to have symptoms, please understand that there are a variety of reasons that someone may be coughing or sneezing. Many people may have allergies or other causes for what may appear to be symptoms. If you are uncomfortable around someone who may be displaying symptoms, please work with your supervisor on potential alternatives to maintain your own health and wellness.
3. What is contact tracing?
Contact tracing is the process of working with individuals who have tested positive for COVID-19 to ensure that they have the right information and that people with whom they have been in contact with are notified that they may need to quarantine themselves.
4. What is the best way to maintain distance and safety using public restrooms?
Please use your best judgment when using public restrooms. If there are too many people, please try to use another restroom, if possible. Please be sure to use soap and water to wash your hands for at least 20 seconds each time you enter and leave.
5. What about the Café Grill food service or vending areas?
The Café Grill is open with limited hours and menu. Hours are Monday – Friday 8:00 a.m. – 2:00 p.m. The menu is a grab and go menu, and there is no seating available in the Café Grill. You must adhere to the physical distancing guidelines and those state requirements applying to restaurants in Arkansas. Hand sanitizers will be
available in food service areas.
Vending machines in the Café Grill and in all campus buildings are operable. Water fountains in all campus buildings are disabled. No food or beverage is allowed in classrooms, or in student service areas.
6. Can I use the Fitness Center?
Not yet. But, when it does open, attendance will be limited based on available space and ability to physical distance. Hand washing or sanitization will be required upon entry to the facility and will also be available throughout the Fitness Center. Instructions for proper sanitizing of equipment by patrons will be issued when the facility opens.
7. Should I wear a mask all the time?
Face coverings should be worn any time that you are around others, including classrooms, hallways, common areas and restrooms. If you are alone in an office or enclosed cubicle, you may remove your mask. Use your judgment and common sense: if you expect to interact with others, wear a mask.
8. What do I do if someone near me is not wearing a mask?
There are several responses possible depending upon the scenario. Let's work through a few of them.
• The immediate response should be to try and maintain adequate physical distancing (at least 6 feet apart).
• In a friendly manner, request that they wear a face covering when around other people.
·· Tell them that we care about you so we are wearing a face covering and that you would sincerely appreciate them wearing one as well.
• If the individual is an employee of ASU Mid-South:
·· Recognize that there are some permissible exceptions to wearing face-coverings and that individual may have provided written documentation to Human Resources. Exceptions are private information and do not necessarily need to be shared beyond Human Resources.
·· If you are concerned that an employee is consistently not wearing a face covering, discuss the situation with your supervisor. This reporting should not be viewed as "tattling" but rather a legitimate concern for the health of all.
• If the individual is a student, and that student does not want to wear a face covering after being requested, offer a temporary alternative solution to the interaction where distancing can be maintained. Contact your lead faculty, or supervisory chain for appropriate steps.
·· For instance, offer to address concerns remotely. Offer a computer station where the student can safely interact online.
9. Will classroom chairs be removed to promote physical distancing?
Classrooms, labs and common areas have been reformatted to take physical distancing requirements into consideration. You may observe chairs in the back of a room or work spaces and chairs marked as not to be used. Please remain compliant with room designs. Adding more chairs or relocating tables may increase the likelihood of infection by decreasing physical distances and is strongly discouraged. In many cases, extra chairs or tables may be in the back of the room but should be considered out of order.
10. I am in a high-risk category. Should I return to work or class?
ASU Mid-South is committed to the health and safety of all employees and students. If you have a pre-existing condition that concerns you, are immune-compromised, or live with individuals in these categories, you should discuss your individual situation with Human Resources if you are an employee. As a reminder, all conversations with Human Resources are confidential. Please arrange a meeting with your supervisor and Human Resources. Students should contact Disability Services. To schedule an appointment with the
Disability Services Office, please email accessibility@asumidsouth.edu.
11. What does Isolation mean?
Isolation is used to separate people infected with SARS-CoV-2, the virus that causes COVID-19, from people who are not infected.
People who are in isolation should stay home until it's safe for them to be around others. In the home, anyone sick or infected should separate themselves from others by staying in a specific "sick room" or area and using a separate bathroom (if available).
Who Should Isolate:
• People who have COVID-19
• People who have symptoms of COVID-19 and are able to recover at home
• People who have no symptoms (are asymptomatic) but have tested positive for infection with SARS-CoV-2
What Steps Should I Take to Isolate:
• Stay home except to get medical care.
• Monitor your symptoms. If you have an emergency warning sign (including trouble breathing), seek emergency medical care immediately.
• Stay in a separate room from other household members, if possible.
• Use a separate bathroom, if possible.
• Avoid contact with other members of the household and pets.
• Don't share personal household items, like cups, towels, and utensils.
• Wear a mask when around other people, if possible.
12. What is the difference between Isolation and Quarantine?
Quarantine is used to keep someone who might have been exposed to COVID-19 away from others. Quarantine helps prevent spread of disease that can occur before a person knows they are sick or if they are infected with the virus without feeling symptoms. People in quarantine should stay home, separate themselves from others, monitor their health, and follow directions from their medical provider, state or local health department.
Who Should Quarantine:
• Anyone who has been in close contact with someone who has COVID-19. This includes people who previously had COVID-19 and people who have taken a serologic (antibody) test and have antibodies to the virus.
• What counts as close contact? You were within 6 feet of someone who has COVID-19 for a cumulative total of 15 minutes of more over a 24-hour period.
• You provided care at home to someone who is sick with COVID-19
• You had direct physical contact with the person (touched, hugged, or kissed them).
• You shared eating or drinking utensils.
• They sneezed, coughed, or somehow got respiratory droplets on you.
What Steps Should I Take to Quarantine:
• Stay home and monitor your health.
• Watch for fever (100.4°F), cough, shortness of breath, or other symptoms of COVID-19
• If possible, stay away others, especially people who are at higher risk for getting very sick from COVID-19
Archived Updates
West_11092020

WEST_Final_082120



July 1, 2020
Dear Students,
I hope this finds you and your loved ones healthy and safe. I can't tell you how much we've all missed seeing your faces on our campus the past few months.
We at ASU Mid-South are currently continuing with remote operations, with a few exceptions for those technical and allied health programs that required some on-campus instruction to complete their spring semester and for others that have similar requirements for the summer. As of today, our plans are to return to an on-campus experience in the fall; however, we will continue to monitor information from the Centers for Disease Control (CDC) and the Arkansas Department of Health (ADH) and will make adjustments to those plans as necessary.
You will notice changes, however, as we adjust to living, working, and learning during a global pandemic. Your faculty and staff are taking this summer to re-examine and re-configure our classrooms and shared spaces to meet the proper social distancing requirements for in-person instruction. You will likely see smaller class sizes, more online and hybrid courses (in-person combined with online and/or work-from-home options), more controlled access to college facilities, an even greater emphasis on cleaning and disinfecting, and required safety protocols for faculty, staff, and students that include frequent hand washing and masks to reduce the risk of infection. We will be doing our part, and we will be asking you to do yours.
Please take time to review the Return to Campus Guidelines for more information on what you can expect upon returning to campus.
As you are considering your options for fall, we encourage you not to delay your education. We also encourage you to consider ASU Mid-South. We take the health and safety of everyone on our campus very seriously, and we are working hard to provide you a learning experience that allows you to stay home, save money, and minimize risk, while earning college credits that will prepare you to advance in your chosen education or career path.
If you have any questions, please feel free to contact us through our online portal at https://www.asumidsouth.edu/contact-us/. We sincerely hope to see you in the fall.
Go Greyhounds!



Debra West, Ph.D.
Chancellor
April 6, 2020
Dear Students,
I hope this finds you healthy and adjusting as well as possible to the difficult times affecting us.
Governor Hutchinson announced today that all Arkansas public schools would continue with alternative delivery of instruction through the end of the semester.  This announcement was not unexpected, as the growth in the number of cases of COVID-19 is projected to continue to rise for the next few weeks. Throughout our country, students are now finding themselves sheltering at home, in some cases with their young children, in an effort to protect themselves and their families from the coronavirus.
Our continued concern about the health and safety of our faculty, staff, and students leads me to announce that remote delivery of classes will continue through the end of the spring semester.
As we move into the month of May, we will closely monitor events related to the spread of COVID-19 and as soon as we feel it is safe to return to normal operations, we will begin to do that. While we hope to be able to do it sooner, our goal is to return to some semblance of normal operations by no later than May 26th, the beginning of the summer semester. 
Meanwhile, I want you to know that supporting your success remains THE priority of all of us at ASU Mid-South as we work together through this difficult time.Our faculty and student services personnel will be reaching out to you in the coming weeks to answer questions about your classes, your schedule, or college in general. We look forward to working with you and helping you reach your goals.
I'm looking forward to the time when we can all return to campus again. I hope you are as well. Until we can safely see each other again, please stay home, stay safe, and stay healthy.

With kind regards,


Debra West, Ph.D.
Chancellor
April 2, 2020
Dear 2020 Graduates,
I hope this email finds you and your family well and coping successfully with the challenging events of the past several weeks. My heart is with each of you during this difficult time.
I'm writing to let you know that, after much thought and deliberation, ASU Mid-South has decided to postpone our 2020 Spring Commencement Ceremony. As we continue to monitor the news from both a national and statewide perspective, it appears less and less likely that we will be able to safely assemble on our original date of May 14. Although we had hoped to wait a little longer to make this decision, we realized that continued uncertainty creates more stress for everyone – especially those of you with family who would be traveling in for the ceremony.
Please understand, your commencement ceremony is postponed, not cancelled. As a community college graduate myself, I understand the significance of this milestone event, both for you and for your families. Our faculty and staff, too, look forward to this event each year, as it's often our last chance to celebrate your accomplishments before you move on to more advanced study or into the workforce. Postponement simply gives us time to get your perspective on the type of experience you want, given the current limitations on social gatherings.
It's also important to understand that if you complete your degree requirements, you are still graduating at the end of the semester. Commencement is a ceremony celebrating your graduation. It is not a requirement for graduation. That means you can continue with your post-graduation plans, whether that be going on to more advanced study or into the workforce. Your diplomas will be mailed to you a few weeks after the end of the semester, as is our normal procedure.
While I am heartbroken we will not be able to celebrate together in person on May 14, I look forward to celebrating your accomplishments in a unique and memorable way on a later date. This semester has been one for the history books, and we want your commencement to be fitting of the unique place ASU Mid-South's Class of 2020 holds in that history. With your help, I have no doubt we can make that happen. We'll be reaching out to you soon via email for your input, so please be on the lookout for that communication.
Sincerely,


Debra West, Ph.D.
Chancellor
March 25, 2020
To Our Students,
ASU Mid-South is following the latest developments regarding the COVID-19 public health emergency and working to be responsive to the communities we serve.  With your safety and well-being as our priority, we have decided to continue on-line and alternative delivery through April 17th.   All campus buildings will remain closed, however we are committed to serving you during this disruption. 
We will continue following our established Academic Calendar as closely as possible while also exercising flexibility and patience in meeting established deadlines. Changes will be communicated as quickly as possible.  ASU Mid-South faculty and staff are dedicated to your success and will assist all students in meeting their classwork objectives. Please don't hesitate to ask for help if you need it!    
We ask that you continue to monitor your ASU Mid-South email, Canvas, and campus alerts. Also, be sure to check the ASU Mid-South website often, as additional resources are being added regularly. And as always, if you have unanswered questions, email greyhoundsupport@asumidsouth.edu
Stay safe, stay home, and be well!


Debra West, Ph.D.
Chancellor
Arkansas State University Mid-South
March 19, 2020
Good evening, everyone.
I hope today finds you well and taking the necessary precautions to protect yourselves and your family.
Today, Governor Hutchinson issued five directives that affect higher education:
•  K-12 schools in Arkansas have been ordered to remain closed through April 17th;
• All indoor dining at bars, restaurants, and cafeterias in Arkansas has been ordered to cease. At this time, take-out or grab-and-go type orders are still an option for those establishments;
• All gyms in the State, including weight rooms, are ordered closed;
• All medical clinics in the State are now mandated to screen individuals before permitting entry;
• And finally, the Governor has directed that all state employees will conduct business through telecommuting. On-site work will be limited to personnel that are "necessary for the proper functioning of government."
Immediately following Governor's press briefing this afternoon, the ASU System conducted a conference call to talk through what this means for our colleges. That call was followed immediately by a conference call of the ASU Mid-South leadership team.  Fortunately for us, we implemented our remote operations plan on Sunday, so we are already in full compliance with the governor's directives.
Student success remains our top priority, and in these uncertain times, it is critically important that our students have every opportunity to succeed.  It is possible that alternative delivery of classes could last beyond Spring Break. Your instructors will be assessing all students' needs in terms of support.
Much of the decision making right now is occurring day by day, if not hour by hour, due to the rapidly evolving situation in our State. Be assured that we will continue to monitor local events, abide by the Governor's directives for state employees, monitor the recommendations provided to us by the Arkansas Department of Health, and ultimately do what is in the best interest of the health and well-being of our campus community.
Take care and as always – be kind to one another!
Debra West, Ph.D.
Chancellor
March 15, 2020 6:45 pm
Greyhound Nation,
After careful consideration and in an abundance of caution, Arkansas State University Mid-South will be closed tomorrow Monday, March 16th in preparation for shifting to alternative delivery of instruction and services, which will begin Tuesday, March 17th, and continue through the end of the week.  Students will receive assignments from their instructors through the normal communication channels (Canvas, text, and email.)  Likewise, employees will receive instructions via phone, email, or text from their Chancellor or respective Vice Chancellor.
Additionally, ASU Mid-South campus will be closed the week of Spring Break, March 23rd-27th, to everyone but those personnel tasked with functions deemed critical to the continuity of operations and instruction. Other personnel will be expected to complete any assigned duties remotely.
As of today, our plan is to resume normal campus operations for all programs on Monday March 30th.  However, we will continue to monitor information provided by local, state, and federal health officials and will communicate further, as needs arise. As always, the health and safety of our faculty, staff, and students is our highest priority.
We ask that you continue to monitor your ASU Mid-South email and our web sites (https://www.asumidsouth.edu/ and https://www.asumidsouth.edu/coronavirus/) for updates, and address any unanswered questions to greyhoundsupport@asumidsouth.edu
Please continue to take responsibility for protecting yourself and others.  We're all in this together.
Sincerely,


Debra West, Ph.D.
Chancellor
UPDATE — MARCH 13. 2020, 9:30 AM
Yesterday, Governor Asa Hutchinson signed an executive order declaring a public health emergency in Arkansas due to our state's first reported case of the novel coronavirus, COVID-19. Arkansas State University Mid-South is closely monitoring information provided by Governor's Office, the Centers for Disease Control and Prevention, the World Health Organization, and state and local health and emergency management agencies and following the guidance provided.
For the past several weeks, members of the ASU Mid-South faculty and staff have worked diligently in responding to the spread of the novel coronavirus in the United States. We are coordinating with local and state health officials, state higher education officials, as well as our local partners, such as Marion and West Memphis School Districts, to protect the safety of our campus community to the extent possible.
While to date there have been no reported cases of COVID-19 in Crittenden County, plans are being put into place at ASU Mid-South to ensure continuity of operations and instruction. Additionally, our Facilities Management team is taking extra measures with regard to custodial and routine disinfection activities, including routinely disinfecting commonly touched surfaces hard surfaces throughout the campus. Additionally, we are following the Governor's directive for state employees which suspends out-of-state business travel for 60 days and cancelling or postponing large meetings and conferences scheduled for our campus during that same time period.
Limiting the spread of coronavirus is our best defense against this virus. Practicing good respiratory hygiene (sneezing or coughing into your elbow or a tissue), washing hands thoroughly for 20 seconds or more, "social distancing" (reducing face- to-face contact and large gatherings of people), and staying home when you don't feel well are key to helping to reduce the risk of infection.
We have set up a web page that addresses questions that have been expressed by faculty, staff and students and are updating the site regularly with information as it become available or necessary. Also, If you have specific questions or concerns that ae not addressed by the web page, you may email them to: greyhoundsupport@asumidsouth.edu.
We will continue to monitor the situation in the days ahead. As always, the health and safety of our students, faculty, and staff remain our top priority.
Sincerely,


Debra West, Ph.D.
Chancellor