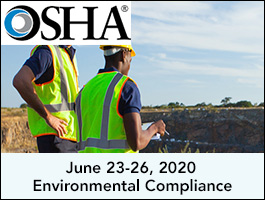 ET 101 Introduction to Environmental Compliance
Fee: $895
June 23-26
ASU Mid-South, Workforce Technology Center, TC 102
Description:
This course is designed to give environmental, health, and safety professionals the tools they need to ensure their workplace is in compliance with environmental regulations and reduce environmental risks. The course will cover the basics of environmental regulations and demonstrate how to identify pertinent regulations to your operations.
It will also cover elements of the major environmental programs at the State level and review the enforcement and compliance tools by regulatory area. Activities and case studies will be used throughout the course to allow attendees to apply knowledge of the topics discussed during the course.
Note: ETI 101 with completion exam will serve as the training prerequisite to the ETI 501 course.
https://web-ded.uta.edu/wconnect/CourseStatus.awp1?&course=20ETI101008
Contact:
John Auker
(870)733-6012
jeauker@asumidsouth.edu