ASU Mid-South Partners with EastArk and Pathfinder to Provide Hospitality Training Opportunities
Arkansas State University Mid-South has partnered with EastArk Enterprises and Pathfinder, Inc. to develop and provide training opportunities for their clients in the hospitality industry. With the goal of helping the clients gain independence and learn entry level employment skills, ASU Mid-South, EastArk and Pathfinder worked together to develop a curriculum that will support clients with disabilities. The first of three courses, Nutrition and Menu Planning, was held for seven weeks in July and August.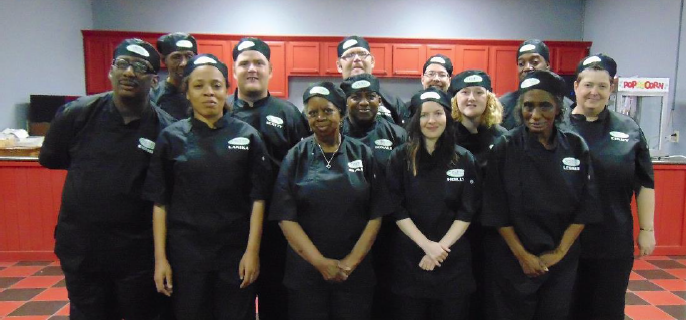 The Nutrition and Menu planning classes taught participants the importance of good nutrition, nutrition terminology, digestion and how to plan and prepare healthy meals. Students learned helpful information about how the diet affects nutrition-diseases such as diabetes and high blood pressure. They gained valuable speaking and presentation experience by working to chart the digestive system and delivering a presentation on their work. They also learned about foods from around the world and prepared meals from other countries as part of the curriculum. As an added bonus, some of the fresh vegetables they used to prepare their daily assignments, came from the garden they help maintain through EastArk Enterprises.
Scott Lovelady of EastArk Enterprises commented on the success of the initial class, "Our clients loved this program. They all learned a great deal and they are looking forward to the next class. They keep asking me when they can come back."
The next class, Food Management, in this three-part program will focus on food safety. "We did cover food safety in our first class," said Marjorie Gardner, Lead Faculty for Hospitality and Food Service. "But the next class will go into food safety in a more in depth manner, examining foodservice systems including management, procurement, maintenance and sanitation. This class will help prepare a student to take the National Restaurant Association ServSafe Food Handler Program exam."
The final class installment in the pilot program is concerned with the lodging and housekeeping applications of the industry. ASU Mid-South partnered with EastArk Enterprises to equip a mock hotel room and students will learn proper ways to clean and prepare a hotel room for guests. One of the primary objectives of each class is to train participants for entry level employment in the hospitality industry. "We have many businesses in our area that could be potential employers for some of our clients and these classes can help prepare them for jobs within the community," said Lovelady.
Dates for the second and third classes have not yet been finalized, but the college and EastArk are anticipating successful outcomes based on the success of the first class. "Our clients have had a wonderful experience working with ASU Mid-South. So we are all looking forward to continuing with these classes and then seeing where it all takes us. Ultimately, it's about our clients and helping them find a quality of life given some of the obstacles they must overcome," said Lovelady. "We're fortunate to have facilities like ASU Mid-South's Jeremy Jacobs Hospitality Center here in our community.
About Pathfinder, Inc.
Pathfinder, Inc., a nationally recognized nonprofit organization, is dedicated to the development and implementation of individualized strategies designed to enable citizens with developmental disabilities, and/or behavioral health needs, total access to community life. Pathfinder provides an array of services for the disabled. Services are provided for those citizens, of Arkansas, with developmental disabilities. Our objective is for each participant to become a self-supporting, productive member of society.
About EastArk, Enterprises
Founded in 1972 with an idea to help individuals with intellectual disabilities learn and secure jobs within the community, EastArk Enterprises, a non-profit community rehabilitation program, began subcontracting to local area businesses for packaging, assembly, labeling, pick-up and delivery. The program has provided many Mid-South industries with a reliable workforce for more than 40 years.