ASU Mid-South is currently not enrolling students into this program.
Respiratory therapy professionals are in critical demand. ASU Mid-South offers high-tech equipment and instruction to put you on the fast track to employment. This is a great opportunity to earn a degree in a first-class program, become licensed, and give back to your community while working in fast-paced environments like newborn and pediatric units, intensive care, and emergency rooms.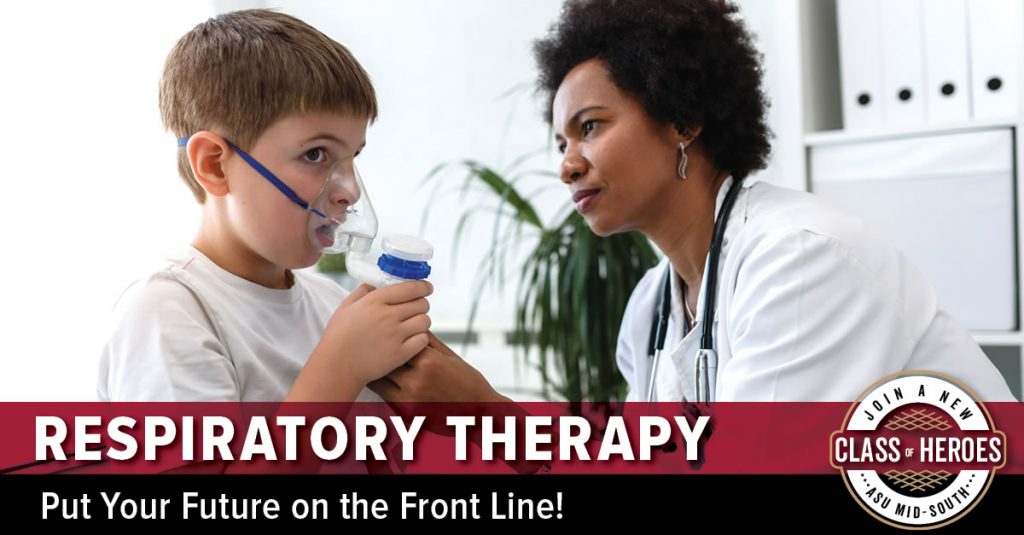 THE PROGRAM
ASU Mid-South's Respiratory Care program is designed with a focus on prevention, assessment, treatment, management, control, diagnostic evaluation, education, and care of patients with deficiencies and abnormalities of the cardiopulmonary system.
The Respiratory Care program provides students with the knowledge and practical skills necessary for successful entry into the profession of Respiratory Care as a Respiratory Therapist. Graduates of the Respiratory Care program are eligible to sit for the National Board of Respiratory Care (NBRC) Entry Level Exam.
If you are interested in respiratory care, seek an advisor as early as possible to find out about the requirements. Class size is limited, and program acceptance is competitive. If you are interested in the Respiratory Care program, Contact the Program Director or the Clinical Director for information.
Accreditation
Respiratory Care Program Level 200 (RRT), CoARC Program Number 200605
The Respiratory Care program at Arkansas State University Mid-South holds Continuing Accreditation from the Commission on Accreditation for Respiratory Care (CoARC) (www.coarc.com).
CoARC accredits respiratory therapy education programs in the United States. To achieve this end, it utilizes an 'outcomes based' process. Programmatic outcomes are performance indicators that reflect the extent to which the educational goals of the program are achieved and by which program effectiveness is documented." Prospective students can view program outcomes data by visiting the CoARC website or by following this link directly: https://coarc.com/students/programmatic-outcomes-data/
For more information about the Respiratory Care program, or how to register:
Explore our programs and find your path at ASU Mid-South.


Students with disabilities verified by a qualified physician are entitled to reasonable accommodations needed to complete their educational goals while attending ASU Mid-South.
For Gainful Employment information, please visit www.asumidsouth.edu/financialaid/gainful-employment/
Arkansas State University Mid-South does not discriminate on the basis of race, color, religion, gender identity, sexual orientation, national origin, age, sex, disability, genetic information, veteran status or marital status in any of its practices, policies or procedures, and provides equal access to the Boy Scouts and other designated youth groups. This includes, but is not limited to, employment, admissions, educational services, programs or activities which it operates or financial aid. The following persons have been designated to handle inquiries regarding the non-discrimination policies:
Jeremy Reece

Title IX Coordinator
Arkansas State University Mid-South
2000 West Broadway
West Memphis, AR 72301

Phone: 870.733.6786
Email: jreece@asumidsouth.edu

Stephanie Krehl

ADA Coordinator
Arkansas State University Mid-South
2000 West Broadway
West Memphis, AR 72301

Phone: (870) 733-6790
Email: slkrehl@asumidsouth.edu
For further information on notice of non-discrimination, visit https://ocrcas.ed.gov/contact-ocr for the address and phone number of the office that serves our area, or call 1-800-421-3481.